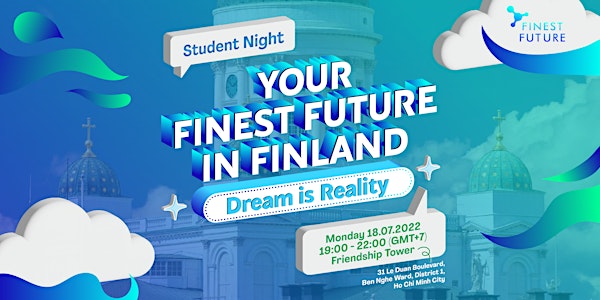 Your Finest Future in Finland - "Dream is Reality"
Join us as we celebrate the Finest Future class of 2022 and find out how you can begin your journey to study in the world's happiest country
When and where
Location
Friendship Tower 31 Đường Lê Duẩn Bến Nghé Quận 1, Thành phố Hồ Chí Minh 700000 Viet Nam
About this event
Congratulations to the Finest Future class of 2022! This July, students from around the globe will embark on the next exciting steps of their Finest Future journey and finally move to Finland to begin studying at their chosen high schools in Finland.
Join the Finest Future team in a night of celebration and find out how you could be in the class of 2023 and make your dream a reality!
📅 Date: Monday 18 July
⏰ Time: 7pm - 10pm
📍 Venue: Friendship Tower, 31 Le Duan Boulevard, Ben Nghe Ward, District 1, Ho Chi Minh City
🎟️ Entry: Free with Eventbrite registration!
Special guests:
Peter Vesterbacka
Former Mighty Eagle at Angry Birds (yes - the famous mobile app!), Peter's goal is to connect the Finest Bay Area with the rest of the world. Listen to Peter's story of the three students from Finland who were responsible for the idea that eventually became global phenomenon Angry Birds - and how that could just as easily be you!
Tuomas Tiilikainen
Tuomas, a Finnish entrepreneur and COO, is passionate about education - specifically Finnish education. But what makes it so unique? And what opportunities are available to students who study abroad in Finland? He'll tell you everything you need to know.
Anh Thy
Anh Thy was in our class of 2021 and has now been studying in Finland for a year. She recently competed in a televised dance competition in Finland, too! Hear directly from one of our students about the Finest Future experience and what life is like in Finland for a high school student studying abroad.
And of course, our HS22 students!
We promise an evening packed full of information and activities, with a dedicated Q&A segment and networking opportunity for all of our attendees - Finest Future staff, partners, parents, and all students (old, new, and even if you're still thinking about joining the Finest Future program!)
Your Finest Future starts HERE!
----------
Finest Future
Finest Future was founded in 2020, by enthusiastic entrepreneurs from Finland and Vietnam, with the ambition to create global growth through super connecting programs in the area of Education, Entrepreneurship and Entertainment.
Xin chúc mừng các bạn đã hoàn tất chương trình Finest Future năm 2022! Tháng 7 này, học sinh từ khắp nơi trên thế giới sẽ cùng nhau bước vào giai đoạn thú vị tiếp theo trong hành trình tương lai "Finest" của mình và cuối cùng là chuyển đến Phần Lan để bắt đầu chương trình học tại các trường trung học mà các em đã chọn.
Hãy cùng Finest Future tham gia một đêm với thật nhiều kỷ niệm, cùng tìm hiểu xem về hành trình mới trong năm 2023 và biến ước mơ của bạn thành hiện thực!
📅 Ngày: Thứ hai 18 tháng 7
⏰ Thời gian: 19h - 22h
📍 Địa điểm: Friendship Tower, 31 Đ. Lê Duẩn, Bến Nghé, Quận 1, Thành phố Hồ Chí Minh
🎟️ Tham gia: Miễn phí khi đăng ký qua nền tảng Eventbrite!
Khách mời đặc biệt:
Peter Vesterbacka
Từng là Mighty Eagle tại Angry Birds (đúng vậy - ứng dụng game nổi tiếng được mọi người biết đến!). Mục tiêu tiếp theo Peter là kết nối Vùng Vịnh Finest với phần còn lại của thế giới. Hãy cùng lắng nghe câu chuyện của Peter về ba sinh viên đến từ Phần Lan, những người đã lên ý tưởng và cuối cùng tạo nên hiện tượng toàn cầu Angry Birds - và điều đó có thể trở nên dễ dàng như thế nào đối với cả bạn!
Tuomas Tiilikainen
Tuomas, doanh nhân Phần Lan và COO, với niềm đam mê cho ngành giáo dục - cụ thể là tại Phần Lan. Nhưng điều gì có thể khiến niềm đam mê đó trở nên độc đáo đến như vậy? Và cơ hội nào dành cho sinh viên đi du học Phần Lan? Tuomas sẽ bật mí tất cả những điều đó cho chúng ta.
Anh Thy
Là học sinh từ Finest Future năm 2021 và hiện đã sang Phần Lan du học được một năm. Gần đây Thy cũng đã tham gia một cuộc thi khiêu vũ trên truyền hình ở Phần Lan! Lắng nghe những chia sẻ trực tiếp về các trải nghiệm cùng Finest Future và cuộc sống ở Phần Lan bởi người đang theo học tại Phần.
Và tất nhiên, cùng tất cả các bạn HS22 của chúng ta!
Finest Future hứa hẹn một buổi tối với đầy đủ thông tin và hoạt động, với mục Hỏi & Đáp riêng và đem đến nhiều cơ hội kết nối cho tất cả những người tham dự - nhân viên, đối tác, phụ huynh và tất cả học sinh của Finest Future (cũ, mới và ngay cả khi bạn vẫn đang suy nghĩ về tham gia chương trình cùng Finest Future!)
Tương lai tốt đẹp nhất của bạn bắt đầu TẠI ĐÂY!
----------
Finest Future
Finest Future được thành lập vào năm 2020, bởi các doanh nhân nhiệt huyết đến từ Phần Lan và Việt Nam, với tham vọng tạo ra sự phát triển toàn cầu thông qua các chương trình siêu kết nối trong lĩnh vực Giáo dục, Khởi nghiệp và Giải trí.