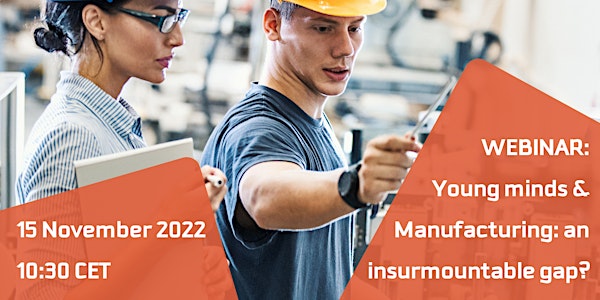 Young generations & Manufacturing: an insurmountable gap?
A study from 2018 predicted that more than 8 million manufacturing jobs worldwide could be unfilled in 2030. Why?
About this event
Why do industrial positions seem unattractive? Why a sector, so crucial to our everyday lives, that produces about everything around us, from tables, clothes, books to ping-pong rackets, robots and cars, is struggling to attract young people?
The manufacturing industry is facing a double challenge: fight against some negative misconceptions but also reinvent itself to rise over the criticisms against it.
Diversity, working conditions, skills, career growth, etc. The list of topics is long, join us for this new Industry 4.0 Web Café to discuss the causes but also the concrete solutions that can be put in place!
SPEAKERS
Antonio Grasso, Founder & CEO at DBI Srl
Anna Nowak, Research Associate at Technical University Berlin
Estela Nieto, Researcher at Ikerlan
Marta Portales, EU Projects Coordinator at Mobile World Capital
ABOUT THE INDUSTRY 4.0 WEB CAFÉS
The Industry 4.0 Web Café is an initiative aiming to promote fruitful conversations on the societal challenges that the manufacturing sector is facing. The initiative is supported by 7 European industry-related projects: Integradde, DIMOFAC, Level-up, PeneloPe, I4MS, i4Q and Change2Twin.