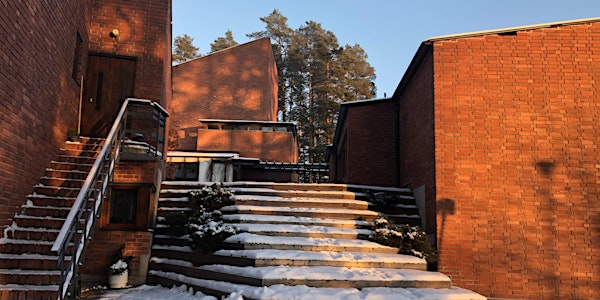 Multiple dates
Writing in a Winter Wonderland: Kirijoituspäiviä 10&11.2.2022
Write together, for a day or two, in unique Säynätsalo Town Hall. Kirjoitetaan yhdessä,1 tai 2 päiväksi, Säynätsalon Kunnantalossa.
By Ridge Writing Retreats
When and where
Date and time
Thu, 10 Feb 2022 09:30 - Fri, 11 Feb 2022 16:30 EET
Location
Säynätsalo Town Hall Parviaisentie 9 40900 Säynätsalo Finland
Refund Policy
Contact the organiser to request a refund.
Eventbrite's fee is nonrefundable.
About this event
Writing retreats give writers time and space to work on their projects and meet other writers. This is a fantastic opportunity to write together face-to-face in a unique setting, Alvar Aalto's Town Hall on Säynätsalo, just outside Jyväskylä.
The facilitated all-day retreat runs from 930 am to 430 pm. The cost (€50 per day +VAT) includes coffee, lunch, a resource pack to support your writing and membership of our online community: we also meet online to write together on Wednesday mornings. There is one free place; email me if you want a scholarship. The group is small enough to talk, maximum 12 writers at a time.
Join us for one day or two: book accomodation directly from the Town Hall on https://tavolobianco.com
Writers on our retreats said:
The collective energy makes it work.
You are responsible to the others during that time – even if you don't feel like writing, you will!
An excellent way to actually get myself to sit down and write, something I keep pushing further and further ahead in my diary because of 'real' work.
A wonderful experience where I can truly say I got something done! Having others there to share your goals with really helps you to achieve them.
Kirjoitusretriittiä on tarkoitettu kaikille, jotka haluavat rauhoittua kirjoittamaan yhdessä muiden kanssa. Tämä on hieno mahdollisuus kirjoittaa yhdessä kasvokkain ainutlaatuista ympäristössä, Alvar Aalon Kunnantalo Säynätsalossa.
Ohjattu retriittipäivä alkaa klo 930 ja loppu klo 1630. Hintaan (50€ / päivä +ALV) sisältyy kahvia, lounasta, resursseja, jotka auttavat sinua kirjoittamaan ja meidän verkkoyhteisön jäsenyys: tavataan myös keskiviikkoaamuisin kirjoittamaan yhdessä verkossa. On yksi ilmainen paikka esim. opiskelijalle; ota yhteyttä sähköpostitse, jos haluaisit stipendin.Ryhmä on pieni, maksimissaan 12 kirjoittajaa kerrallaan, joten ehdimme keskustella.
Tule 1 tai 2 päiväksi, majoitus varataan suoraan tästä: https://tavolobianco.com
Palaute retriitistä:
Kaikki toimi hienosti ja päivä oli onnistunut.
Todella isot kiitokset sinulle. Sain tosi hyvin tehtyä.
Palautteeni on pelkästään positiivista. Tällainen ohjattu rakenne + asiaan keskittyminen selvästi toimivat minulle hyvin. Sinä ja muu ryhmä kannattelitte ja kannustitte hyvin ja välillä oli vaikea jopa keskeyttää tauoille. Toivottavasti tällainen järjestetään vielä uudelleen ja pääsen mukaan!
more info/lisätietoa: kate@kswtranslations.com
About the organiser
Writers who want to write together on retreats. The facilitator, Kate Sotejeff-Wilson, is based in Jyväskylä, where the ridge (harju) runs through the town. Inspired by Rowena Murray in Scotland, Ridge Writing Retreats brings writing in social spaces to Finland's lake district and online.
Retriitti on tarkoitettu kaikille, jotka haluavat rauhoittua kirjoittamaan yhdessä muiden kanssa. Retriitin ohjaaja Kate Sotejeff-Wilson asuu Jyväskylässä, missä harju (ridge) kohoaa keskellä kaupunkia. Skotlantilaisen Rowena Murrayn innoittama retriitti tuo yhteisöllisen kirjoittamisen Järvi-Suomeen ja verkkoon.