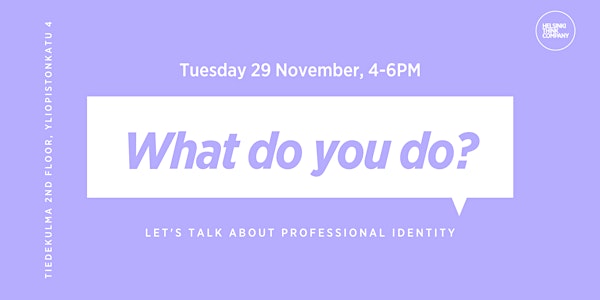 'What do you do?' Let's talk about professional identity
Join us to discuss professional identity and what it means for a creative entrepreneur. Drinks, snacks and poetry are on the program!
When and where
Location
Helsinki Think Company city center 4 Yliopistonkatu Tiedekulma 2nd floor 00100 Helsinki Finland
About this event
"So what do you do?"
For entrepreneurs in the creative industry, this innocent question can sometimes pose a problem. How to explain and define your work on simple terms? Do you have to put yourself into a box to give a satisfying answer? Should you only pick one thing amongst sometimes many creative endeavors to market yourself?
Join us on 29 November at the Think Company city center space to discuss these questions, hear stories from creative entrepreneurs like yourself and find answers through poetry!
During the evening artist, poet and translator Kasper Salonen will host a poetry workshop, in which all willing participants get to try their hand at writing and performing a poetry piece. The workshop is optional - you're more than welcome to join in as an audience member, too!
Snacks and drinks will be served alongside chilled-out conversation and a great chance to meet fellow creatives. We hope to see you there!
Programme:
- 4PM: Intro
- 4:15–5:15: Kasper Salonen: presentation & poetry workshop
- 5:15: Mingling & drinks