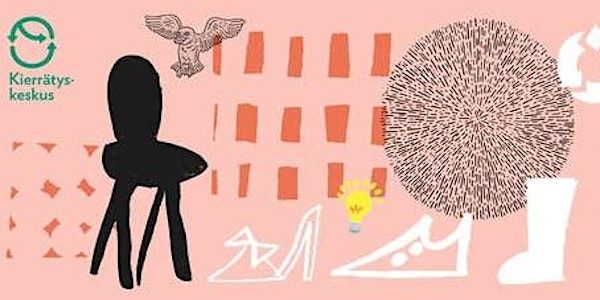 Visit to Espoo Reuse Centre
Come to the Espoo Reuse Centre to learn about the circular economy, sustainable development, and the impact of clothing on the environment!
When and where
Location
Pääkaupunkiseudun Kierrätyskeskus Oy / Nihtisillan tavaratalo 3 Kutojantie 02630 Espoo Finland
About this event
in Arabic: https://www.mirsal.fi/ar/mirsal-event/clothing-and-accessories-recycled-is-unique-and-stylish/
Welcome to visit the Reuse Centre on Wed 21.9.2022 at 17.00. Luontokoti project in cooperation with Mirsal ry and Kiva digi project will organise a guided visit to the reuse centre in Nihtisilta, Espoo.
The visit is aimed at Arabic speaking youth. The guided tour will be in English.
The theme is clothing and accessories, where you will learn about the circular economy, sustainable development, and the impact of clothing on the environment. Recycled is unique and stylish!
During the visit we get to know the wide range of activities at the recycling centre, such as the sorting centre, where huge quantities of donated goods are sorted. At the end of the tour, if you'd like, you can do some shopping or visit the recycling centre's free goods point.
If possible, bring a smart phone – we will do tasks with them during the tour!
The Nihtisilta Reuse Centre is easily accessible by public transport or car. Espoo's Kera train station is less than 1km away.
Address: Nihtisilta Reuse Centre, Kutojantie 3, 02630, Espoo.
Please sign up for the event in advance so that we know you are coming.
You are warmly welcome to join us!
For further information email tuomas.heinamaki@moniheli.fi.
Vierailu Espoon Nihtisilla kierrätyskeskukseen
Tervetuloa tutustumaan kierrätyskeskuksen toimintaan ke 21.9.2022 klo 17. Luontokoti-hanke järjestää yhteistyössä Mirsal ry:n ja Kiva digi -hankkeen kanssa opastetun vierailun Espoon Nihtisillan kierrätyskeskukseen.
Vierailu on suunnattu ensisijaisesti arabiankielisille nuorille. Opastettu kierros on englanniksi.
Opastetun vierailun teemana on vaatteet ja asusteet, jossa opitaan kiertotaloudesta, kestävästä kehityksestä ja vaatteiden vaikutuksesta ympäristöön. Kierrätetty on uniikkia ja tyylikästä!
Vierailulla pääsee tutustumaan myös monipuolisesti kierrätyskeskuksen toimintaan, kuten lajittelukeskukseen, jossa lajitellaan suuria määriä lahjoitettuja tavaroita. Kierroksen lopuksi voi halutessaan tehdä ostoksia tai vierailla kierrätyskeskuksen ilmaisten tavaroiden pisteellä.
Jos mahdollista, ota mukaan älypuhelin – teemme sen avulla tehtäviä kierroksen aikana!
Nihtisillan kierrätyskeskukseen on helppoa saapua julkisilla tai autolla. Espoon Keran juna-asemalta on matkaa alle 1km.
Osoite: Nihtisillan kierrätyskeskus, Kutojantie 3, 02630, Espoo
Ilmoittauduthan tapahtumaan etukäteen, jotta tiedämme, että olet tulossa.
Lisätiedot: tuomas.heinamaki@moniheli.fi
Lämpimästi tervetuloa mukaan!