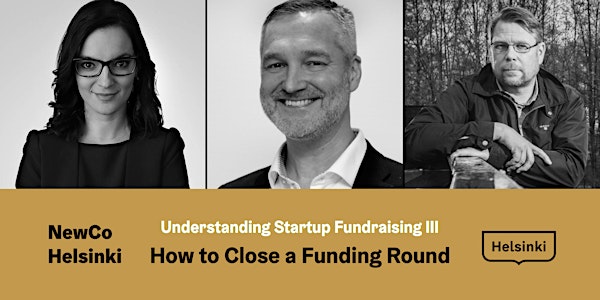 Understanding Startup Fundraising III: How to Close a Funding Round
NewCo Accelerator morning sessions on startup fundraising continue with a panel discussion (Nora Haapala, Teemu Varpanen, Vesa Aaltonen).
When and where
Location
KOO3, Business Helsinki (4th floor) Kansakoulukatu 3 00100 Helsinki Finland
About this event
Welcome to listen to our panel discussion with an experienced Attorney-at-Law, Business Angel and Startup Entrepreneur explain how the funding round is closed. What are the important legal details and processes to remember? What are the necessary documents to be signed and where should you file those?
If you are a startup founder and planning or executing a fundraising round, join NewCo Accelerator's series of morning sessions on startup fundraising and listen to our guests explain "the secrets" of closing the funding round.
OUR PANELISTS
Nora Haapala, Attorney-at-Law and Associate Partner, Rödl & Partner
Nora is an experienced attorney with more than 10 years of work experience in corporate law, contract law and M&A. In addition, she is an expert in intellectual property law and information technology law issues including trademark and patent protection, SaaS and license agreements.
Teemu Varpanen, Business Angel
Teemu is a software industry expert with 25 years of experience in both small- and corporate sized businesses. Focusing on very early stage companies with idea, passion and good team chemistry. Actively building bridges between people, teams and ecosystems. Member of FiBAN
Vesa Aaltonen, MD and Founder, ReFaMo
Vesa is an experienced leader with a wide experience in corporates to smaller organizations. He has a strong sales and technology background in IoT and Software solutions. He founded ReFaMo in 2020 and holds both Managing Director and Board Member positions in it. He is result oriented and keeps his schedules and targets. He is ambitious and is always looking for better ways to execute.
OUR HOST
Jukka Hakola, Senior Business Advisor, NewCo Accelerator
Jukka is a leadership expert with 30 years of experience in Sales, P/L and CEO responsibilities. For the last two years he's been working in NewCo Accelerator. He is also member of FiBAN and as Business Angel has seen the challenges also in his portfolio startups.
After the panel discussion is finished, we will have the chance to do some networking.
If you are not able to come to meet us and other startup founders, you can also join online. Please specify your preferred way of attending the event when registering on Eventbrite.