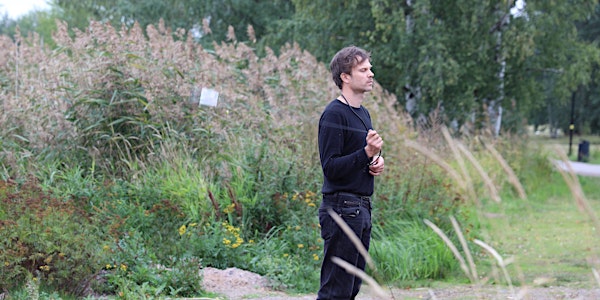 Timo Viialainen: Engagement
New Performance Turku Festival 2021
Date and time
Sat, Sep 4, 2021 9:00 PM - 10:00 PM EEST
Location
Manillan tehdas 64b Itäinen Rantakatu 20810 Turku Finland
About this event
Saturday 4.9. 21:00
Kindly arrive 5 min before performance starts
Address: Vanha Viinatehdas (Manilla) - Itäinen Rantakatu 64b, 20810 Turku
Duration: 30-40 min
Capacity: 25 people
We highly recommend that the audience wears a mask in all our events.
Timo Viialainen: Engagement
Almost every building has a cabinet that has a handle inside it, and turning that handle shuts down electricity. After the blackout all the electronic devices with a battery will eventually shut down too. It is possible to shut down every space that is connected to electricity, as all spaces are always behind a main switch.
Main switches have been used to ensure safe electrical working during emergencies and life-saving operations such as bank robberies and controlling crowds, or ending unwanted happenings like political and religious gatherings. They have also been used to instantly stop electrically amplified musical events – especially when the music has been loud and interpreted as disturbing noise. Often the decision to shut down electricity has been made spontaneously during a live situation and under pressure. Maybe because it has been possible, and maybe because the impact is so instant and effective.
Manilla's Vanha Viinatehdas first got connected to electricity probably in the early 1900's after the booze factory became a rope factory. Nowdays the space is used for many different purposes. Multipurpose space is supposed to transform to fill various wants and needs. In this case I want to examine the powers that are activated here in this space, and examine the conditionality of the existence of those powers in relation to electricity and the change caused by a sudden blackout.
Timo Viialainen: Engagement
Melkein jokaisesta rakennuksesta löytyy kaappi, jonka sisällä on kahva, jota kääntämällä sähköt katkeavat. Sähköjen katkeamisen jälkeen sammuvat ennen pitkää myös akulliset laitteet. Jokaisesta sähkön piirissä olevasta tilasta on mahdollista myös katkaista sähköt, sillä jokainen tila on aina jonkin pääkytkimen takana.
Pääkytkimiä on käytetty takaamaan turvallinen sähkötyöskentely myös hätätilanteissa ja pelastustoimenpiteissä, kuten pankkiryöstöissä ja joukkojen hallinnassa, sekä syystä tai toisesta ei-toivottujen tilaisuuksien, kuten poliittisten ja uskonnollisten kokoontumisten keskeyttämisessä. Kytkimiä on käytetty myös sähköisesti vahvistettujen musiikkitapahtumien äkillisessä lopettamisessa – varsinkin kun on ollut kyse äänekkäästä, häiritseväksi meluksi tulkitusta musiikista. Usein päätös sähköjen katkaisusta on syntynyt spontaanisti elävässä tilanteessa ja paineen alla. Ehkä siksi, että se on ollut mahdollista, ja koska sen vaikutus on niin välitön ja tehokas.
Manillan Vanha Viinatehdas sai sähköt todennäköisesti joskus viime vuosisadan alkupuoliskolla viinan valmistuksen vaihduttua köysien tekoon. Nykyään tila on monitoimitila. Monitoimitilan tarkoitus on muuntua moniin haluihin ja tarpeisiin. Tässä tapauksessa haluni on tutkia tilassa aktivoituvia voimia ja niiden olemassaolon ehdollisuutta suhteessa sähköön sekä äkillisen sähkökatkon aiheuttamaan muutokseen.