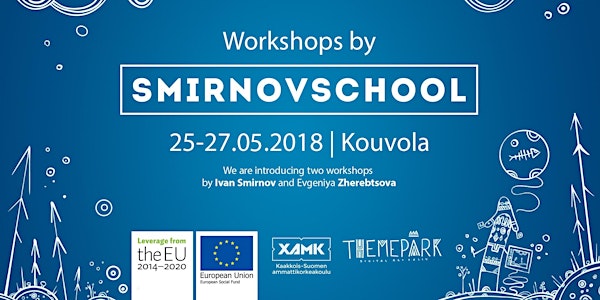 Date and time
May 25, 2018 · 10:30am - May 27, 2018 · 5:30pm EEST
Location
Meduusa studio Paraatikenttä 7 Kouvola Finland
Description
We at Theme Park are art passionate volunteers creating our first Digital Art Rally in Finland. We are aiming to create an international digital art event where professionals in the etnertainment industry could meet and share their knowledge with other professionals, hobbyist and students. "Theme Park" is a festival for creators.
---
We are happy to introduce to you two wonderful workshops by Ivan Smirnov and Evgeniya Zherebtsova. Both are professional teachers in Smirnovschool (online digital art school) and have close to decade experience in creating art for entertainment industry.
Sadly, you can only attend ONE workshop and the ticket is personal, so choose carefully. However, if you work hard there's a high chance to leave the workshop you've chosen not only with new skills but also with a portfolio piece!
(WARNING: FOR MAXIMUM EFFECT BOTH WORKSHOPS REQUIRE INTERMEDIATE PHOTOSHOP KNOWLEDGE)
---
"Introduction into photobash" by Evgeniya Zherebtsova
In this workshop while creating a concept for a hand grenade you will learn basic methods, rules and mistakes of photobashing. You will be introduced into applications and tools that would help you in this process. Evgeniya will explain you some peculiarities of the photobashing, its areas of application and what distincts it from other techniques.
During this workshop you'll go through the basic pipeline of the concept creation: forming the idea, modeling of the 3D base shape, photobashing, final presentation of the concept.
---
"Introduction into Character Design" by Ivan Smirnov
During this workshop you will learn the basic pipeline of character creation. Ivan will talk about the role of concept artist and the tasks he/she usually has to perform. You'll also go through common mistakes beginners make and ways to avoid them.
Step by step you'll go through all the stages of character creation starting from forming the initial idea and ending up with final render.
About the organizer
Theme Park Finland is a free event focused on digital art in the entertainment industry, made with accessibility as the main idea. We welcome pros, students and just curious people.