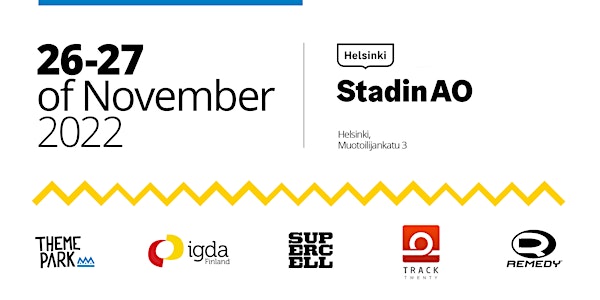 Theme Park 2022
After two years break Theme Park is back! IGDA Finland gives you: speakers, keynotes, panels and portfolio reviews, all the things you love!
When and where
Location
Muotoilijankatu 3 3 Muotoilijankatu 00560 Helsinki Finland
About this event
WARNING! THIS IS AN OFFLINE EVENT!
Netflix, Riot Games, HBO Max, Sony Immersive Music Studio, Dreamworks, Universal Studios, Hasbro UK, Housemarque, Supercell, Gameloft - here's a short list of companies the speakers for the next Theme Park worked with. The event is planned for 26-27 November 2022 and will take place at Stadin AO, Muotoilijankatu 3, Helsinki. The detailed schedule will be published later.

A few important notes:
1. The main idea of the Theme Park is accessibility and it is not only about the money. Anyone who attends the event is agreeing to maintain a friendly and safe environment for all the guests and organisers. The event takes place on the vocational school premises, so all the rules applicable to the educational facility are in the effect.
2. The event will have a limited amount of tickets. Please, register only if you are really planning to come. If at some point after registration you'd understand that you are unable to attend, please, cancel your registration ASAP.

Theme Park 2022 is made in partnership with IGDA Finland and was only possible thanks to our sponsors. There's no way to tell, how grateful we are for this possibility. We are always open to new ideas, friendship and partnership. So, do not hesitate to contact us if you want to get involved. Follow us on social media to get regular updates.