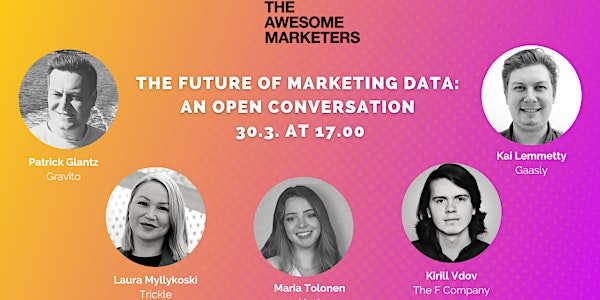 The Future of Marketing Data: an open conversation
An interactive webinar all about First Party Data & a Cookieless Future and Using AI for Better Marketing Insights on Data Analytics.
By The Awesome Marketers Finland
Date and time
Thursday, March 30 · 7 - 8am PDT
About this event
Two of the biggest trends in marketing right now are on the agenda for what promises to be an insightful and entertaining hour.
First party data & a cookieless future
Using AI for better marketing insights on data analytics
This online event will be in a Fishbowl format so have your questions and opinions ready for an interactive session guided by our expert speakers and moderator.
What's a Fishbowl event?
A Fishbowl event is a discussion format with speakers sharing their insights and experiences, where everyone from the audience can jump in and ask questions or exchange ideas: just turn your camera and mic on and you'll be let into the conversation by our moderator! You'll have 1 minute to interact. Max 5 people at a time can be in the Fishbowl (with camera and mics on), including the speakers. After that, other people will be able to join the conversation in the same way. The aim is to keep the conversation flowing from fish to fish, and have an organically growing conversation.
Do you have burning questions about how the shift away from third party cookies will affect you as a marketer?
Are you wondering how to best make use of AI to get better insights on your marketing data and analytics?
Then register now and join us for a lively and insightful conversation!
To help us out we have some great speakers to share their insights and perspectives.
Laura Myllykoski is Lead for Trickle Helsinki. Laura's expertise is in helping companies digitalise, grow and scale their businesses. With 13+ years of experience in digital marketing, she knows her business and has helped a variety of companies in different industries generate tens of millions of euros in marketing generated revenue.
Patrick Glantz is a well-seasoned digital marketing expert who has gained his competence from the corporate world from Nokia and Microsoft where he was responsible for the CRM and marketing platforms. He is a co-founder of Millisecond and Gravito, and is currently working as a COO at Gravito. Helsinki based Gravito provides a sophisticated B2B solution for gathering First Party Data as-a-Service. It combines identity resolution and consents management and does its magic during page-load, real-time.
Kai Lemmetty, is a seasoned growth marketer and co-founder of Gaasly with over two decades of experience in online business. For the past eight years, he has honed his skills in marketing, with a particular focus on search engine marketing and paid social media marketing. In recent months, Kai has been delving into the exciting world of data analytics, AI, and the evolving landscape of social media's impact on traditional search engines. His passion for exploring emerging trends and technologies keeps him at the forefront of his industry, constantly seeking new ways to leverage the latest tools and insights to drive growth and innovation.
Kirill Vdov is Senior Paid Marketing Specialist at The F Company, is an expert in B2B performance marketing who collaborated with dozens of companies across SaaS, industrial, and service industries. He also works as an independent Paid Marketing Consultant, sharing his insights and tips on B2B paid marketing.
About the organizer
The #1 Slack Community for Marketers in Finland