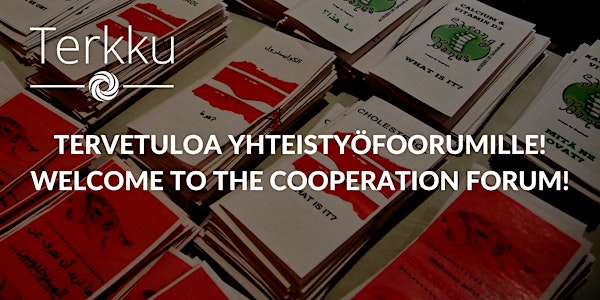 Terkku: Yhteistyöfoorumi / Cooperation forum
Mitä opimme Terkku-hankkeesta? / What did we learn from the Terkku project?
When and where
Location
Eurooppasali 16 Malminkatu 00100 Helsinki Finland
About this event
Terkku-hanke on viimeisen kolmen vuoden ajan pilotoinut kulttuurisensitiivisiä työskentelytapoja terveydenhuollon palveluihin ja tuonut yhteen maahan muuttaneita ja terveydenhuollon ammattilaisia. Hanke päättyy vuoden 2022 lopussa, ja nyt on aika vetää yhteen kaikki opittu ja antaa tunnustusta yhteistyökumppaneille.
Yhteistyöfoorumi järjestetään Eurooppasalissa tiistaina 29. marraskuuta 2022 klo 9.30-15. Ilmoittaudu yhteistyöfoorumiin perjantaihin 11. marraskuuta 2022 mennessä. Kalenterikutsu ja ohjelma lähetetään ilmoittautuneille lähempänä tapahtuman ajankohtaa.
Yhteistyöfoorumin tavoitteena on koota yhteen maahan muuttaneita, terveysjärjestöjä ja -toimijoita, maahanmuuttaja- ja monikulttuurijärjestöjä sekä sosiaali- ja terveysalan ammattilaisia. Yhteistyöfoorumissa nämä tahot kokoontuvat yhteen ja lähtevät aiheen asiantuntijoina yhdessä työstämään ajatuksia ja ideoita siitä, miten tarttumattomiin sairauksiin liittyvää ennaltaehkäisevää työtä voitaisiin tehdä jalkautuvan työn keinoin maahan muuttaneiden parissa. Lisäksi esitellään Terkku-hankkeen tuloksia ja tutkimusta.
Jäikö kysyttävää? Ota yhteyttä!
Lauren Stevens
Terkku-hankeen koordinaattori lauren.stevens@moniheli.fi
+358 (0)50 544 1122
https://moniheli.fi/terkku/
For the past three years, the Terkku project has been piloting culturally sensitive ways of working in health services, bringing together immigrants and health professionals. The project is ending in 2022, and now is the time to pull together all the lessons learned and acknowledge the cooperation partners.
The cooperation forum will be held at the Europe Hall on Tuesday 29 November 2022 from 9:30 am to 3 pm. Register for the cooperation forum by Friday 11 November 2022 . A calendar invitation and programme will be sent to those who have registered closer to the date of the event.
The aim of the cooperation forum is to bring together immigrants, health organisations and actors, immigrant and multicultural organisations, and professionals in the social and health care sector. These actors come together in the forum and work together as field experts on ideas on how to carry out preventive work on non-communicable diseases through outreach work with immigrants. The results of and research about the Terkku project will also be presented.
Any questions? Contact us!
Lauren Stevens
Terkku Project Coordinator
lauren.stevens@moniheli.fi
+358 (0)50 544 1122
https://moniheli.fi/en/terkku/