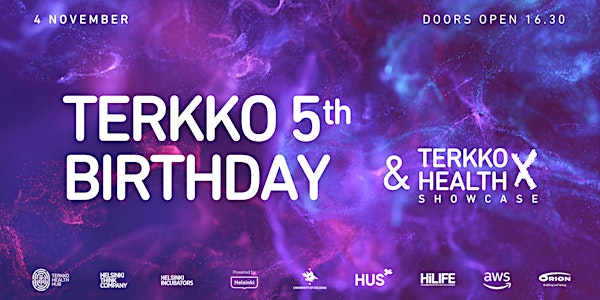 Terkko 5th Birthday & Terkko Health X Showcase
Join us to celebrate the 5-year journey of Terkko Health Hub and the 4th batch of Terkko Health X on 4.11. The event is IN PERSON ONLY!
When and where
Location
Terkko Health Hub 14 Building 00290 Helsinki Finland
About this event
Terkko 5th Birthday & Terkko Health X Showcase
Are you interested in finding out what the future of healthcare looks like? Do you want to network and celebrate with people from all health and life science ecosystem segments?
This year the Terkko Health X Showcase is not just a regular showcase but also Terkko's 5th Birthday Party filled with networking, speeches, music – and of course, food and drinks!
The number of tickets is limited, so act fast! Seating is limited for the first part of the program so arrive early to secure your seat.
JOIN US TO CELEBRATE:
The culmination of our pre-incubator programme, Terkko Health X 2022
The current and past startup members that have been part of your community so far (the number of our member startups is almost 100!)
€50+ million of funding that our innovative and talented startups have raised during the past 5 years
4 pre-incubator programmes with 32 teams that we've offered mentoring for
Terkko's wide network of experts that ranges from our enablers, the Faculty of Medicine of the University of Helsinki, HiLIFE – Helsinki Institute of Life Science and HUS – Helsinki University Hospital to our corporate partners and in-house actors
…and the entire health and life science ecosystem of the Helsinki area!
WHAT'S IN IT FOR ME?
Startups and founders: This is your opportunity to celebrate with your peers, network with the health and life sciences ecosystem, and meet your next investor.
Academia: Be inspired by all the fantastic things happening in the entrepreneurship home of the Meilahti campus.
Investors and health organisations: Get to know the innovative solutions and startups operating in Terkko Health Hub and the Meilahti campus. This is your chance to find the next team to invest in or collaborate with!
THE SCHEDULE FOR THE EVENING:
16:30 Doors open
17:00 Programme starts
17:15–19:00 Terkko Health X 2022 Showcase
19:00–19:30 Terkko 5th birthday speeches
20:00 The announcement of the top 3 teams of Terkko Health X 2022
20:00–24:00 After party
Instructions for arrival:
Please favour public transportation or taxi to avoid traffic congestion near the hospital area. Also, please note that the traffic arrangements can vary due to the construction of the tram turnaround outside of Terkko Health Hub.
About Terkko Health Hub:
Terkko Health Hub is a startup community, an event space and a co-working area located in the heart of the Meilahti Campus. You can read more about Terkko here: https://terkko.fi/
About Terkko Health X:
Terkko Health X is an ambitious pre-incubator programme for early-stage health and life sciences teams, organised by Terkko Health Hub and Helsinki Think Company. The programme is part of the University of Helsinki's pre-incubators. For more information about Terkko Health X, please visit https://terkko.fi/x/
The organisers want to thank the enablers of Terkko Health X:
Faculty of Medicine of the University of Helsinki
HiLIFE – Helsinki Institute of Life Science
HUS – Helsinki University Hospital
Helsinki Incubators
Amazon Web Services
Orion Corporation