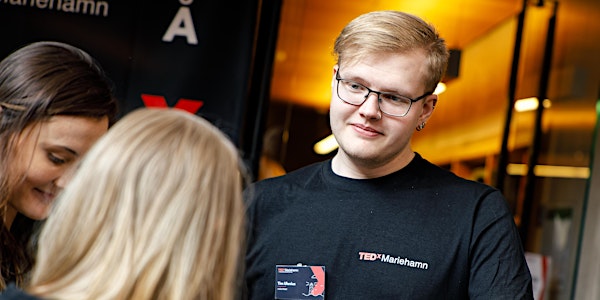 TEDxMariehamn 2023 - Passion Explained
Discover TEDxMariehamn 2nd event in the Åland Islands. Join us and experience TEDx talks in Åland!
Date and time
Sun, Apr 2, 2023 2:00 PM - 4:30 PM EEST
Location
Alandica Kultur & Kongress Auditorium Strandgatan 33 22100 Mariehamn Åland Islands
About this event
Welcome to TEDxMariehamn April 2nd at Alandica auditorium. Limited seats, only 100 tickets available!
Speakers:
Andra "Börshajen" Farhad (SE): "Misstag du vill undvika om du vill investera på börsen"
Nayab Ikram (AX/FI): "Behind the artistic process"
Christoph Treier (FI): "The secret to mental strength in sports and business"
Mercedes Winquist (AX): "Food for thought"
Katrin Berndt (SE): "How to enjoy your good relationship today, even if it ends tomorrow"
Huck Middeke (FI): "The passion you need to survive"
Check our website tedxmariehamn.com and follow us on Instagram and Facebook @tedxmariehamn.
If you have any questions or issues with the payment please contact us at tedxmariehamn@gmail.com
What is TEDx?
In the spirit of ideas worth spreading, TED has created a program called TEDx. TEDx is a program of local, self-organized events that bring people together to share a TED-like experience. Our event is called TEDxMariehamn, where x = independently organized TED event.
At our TEDxMariehamn event, TED Talks video and live speakers will combine to spark deep discussion and connection in a small group. The TED Conference provides general guidance for the TEDx program, but individual TEDx events, including ours, are self-organized.
Date: Sunday April 2nd 2023.
Venue: Alandica, Strandgatan 33, Mariehamn.
Time: 14:00 - 16.30 with a break in the middle.
See one of the talks from last time at Sjöfartsmuseet below (55 000 views)
Frequently asked questions
What language will the talks be in?
Will the audience be visible in the YouTube-films?