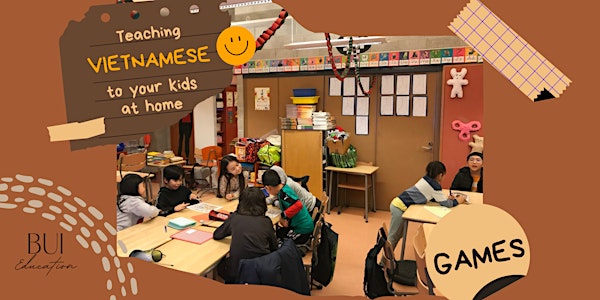 Teaching Vietnamese to your kids: Games and learning activities
Fun games and effective learning activities + tips about teaching reading and spelling (đánh vần)
About this event
Teaching your kids Vietnamese is definitely a fun and valued experience but it can be challenging to get them excited or to achieve concrete learning outcomes.
Join us in this webinar to get to know different games and activities that get your kids excited about learning Vietnamese. You'll also get a few tips on how to teach reading and spelling (đánh vần).
Hear from our experienced teacher, Julie Bui who will be sharing various teaching methods that she uses in her classes to stimulate learning.
Agenda
16.00-16.10: Warm-up, introduction
16.10-16.30: Fun games, effective learning activities, tips about teaching reading and spelling (đánh vần)
16.30-16.40: Vietnamese courses by Bui Education
16.40-16.50: Qs&As
ABOUT US
Bui Education provides high-quality and interactive language courses for adults and kids. Get to know us here https://www.buiedu.fi/
ABOUT THE SPEAKER
Julie Bui is a language teacher based in Finland. She teaches Vietnamese as a mother tongue, among other things, in public schools in Finland. Her students in the mother tongue classes are Vietnamese kids aged 4-15.