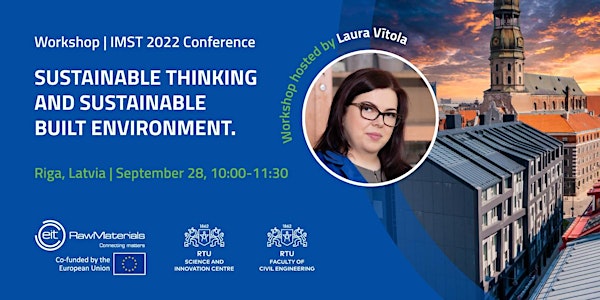 Sustainable Thinking and Sustainable Built Environment | IMST 2022
Are you interested in getting one step closer to a sustainable built environment? Join this workshop to gain some valuable insights.
When and where
Location
RTU Campus Ķīpsalas 6 1048 Rīga Latvia
About this event
⚒️ If you are interested in how we can move one step closer to a sustainable built environment while understanding the principles and meaning of sustainability through practical hands-on examples, this workshop is for you. This is an event organized as a side event of the 5th International Conference «Innovative Materials, Structures and Technologies» (IMST 2022) held in Riga on September 28-30, 2022.
Every decision and action we make more or less affects the quality of life of future generations. Although it is accepted in society to motivate people to live today and not think about tomorrow, it is our duty to ensure that our descendants do not have to deal with the problems we create. 🌲
👉 In this workshop, learn more about what sustainability is in its essence, find out how to make daily life decisions without having a negative impact on future generations, and learn some different ways how to make our built environment more sustainable.
The workshop is hosted by:
Laura Vitola
M.sc.ing.
Researcher
Institute of Materials and Structure, RTU