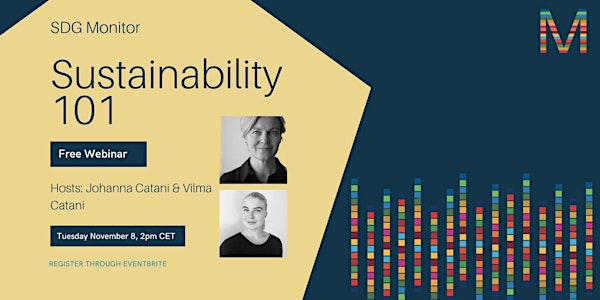 Sustainability 101 | organized by SDG Monitor
Introductory course on sustainability and business
About this event
This webinar is an introductory course on business sustainability. Come and get inspired how your company or organization could start their sustainability journeys.
During our one hour session we will go through
basic things on sustainability and how to get started
key sustainability terms
The United Nations Sustainable Development Goals (SDGs) and other global frameworks
SDG Monitor sustainability performance measurement tool
Get ready to start your sustainability journey today!
Our webinars are for sustainability specialists, enthusiasts and entrepreneurs of all size companies, organizations, civil societies, events, etc.
Webinar hosts:
Johanna Catani, Founder and Sustainability Advisor at SDG Monitor
Vilma Catani, Co-Founder and CTO at SDG Monitor
SDG Monitor is a cloud-based SaaS tool that helps companies and organizations to measure, manage and communicate their sustainability performance and show its impact. Our webinars are a great way to meet other sustainability experts and change makers and share sustainability practices in different industries.
SDG Monitor is a proud member of Pledge 1% community! We give back by pledging time, sharing our knowledge and expertise.
Join our global community of sustainability professionals!