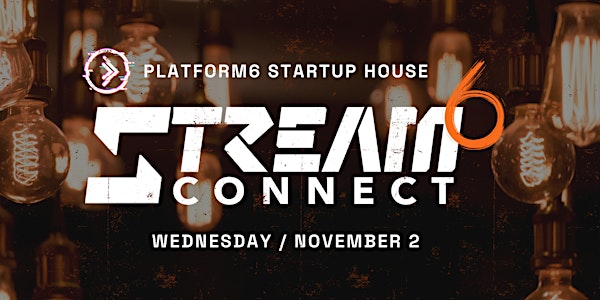 STREAM CONNECT. EPISODE 6. Managing investor outreach and relations.
STREAM CONNECT is a series of startup-investor matchmaking and networking events organised by Platform6 and open to all startups in Tampere.
When and where
Location
Platform6 8 Åkerlundinkatu 33100 Tampere Finland
About this event
You are invited to Stream Connect. Episode 6!
The 6th episode of Stream Connect is all about managing investor outreach and relations. Securing private investment for a startup is difficult. On top of having a business or product that is fundable, you need to have an approach to how you reach out and engage with investors during the process.
When: Wednesday, November 2, 15:00 - 17:00
Where: Platform6 startup house, Åkerlundinkatu 8, Tampere
Regardless of which types of investors you choose to partner with, developing a robust and long-term relationship is vital to your company's continued success. Getting investors to work with your startup is just the beginning of the entrepreneur/investor relationship. Even though you've worked harder than you dreamed possible to secure the necessary funding for your operation, there's no time to rest on your laurels.
Programme
15:00 - 15:05 Welcoming words by Platform6 team
15:05 - 15:20 "Camels, rather than unicorns - what really matters to VCs" by Risto Rautakorpi, Managing Partner at Gorilla Capital
15:20 - 15:35 "How to find the right investor" by Turo Numminen, Co-Founder at Sofokus Ventures
15:35 - 16:00 How to build an effective investor outreach strategy - tools, tips, lifehacks. Speakers: Ossi Numminen (angel and VC investor), Tuomas Pahlman (investor), Jussi Muurikainen (founder at Liquido.vc), Kalle Palomäki (Executive Director and Member of the Board at Modulight, Inc.)
16:00 - 17:00 Networking facilitated by Platform6 team

About Platform6
Platform6 is a startup house in the heart of Tampere that opened its doors on the 1st of October in 2020. It offers startups a structured growth path along with a curated space, peer support, global networks and carefully selected services & programmes that help startups at all stages (from ideation to international expansion)grow, scale and access private investments, public funding, mentors, strategic partners, corporates, top talent, customers, etc.
As of now, we have 60+ startups, 7 organisations, 200+ members, and 3 startup programmes, working and running from Platform6 as well as 20 partners to support the startup growth. It is operated by a coalition of startups Tampere Startup Hub and supported by The City of Tampere.
Let's connect!
The capacity of our venue is limited so we ask you to register only if you are sure that you can join the event. Cancel your registration if your plans change. We expect to be sold out fast - reserve your ticket well in advance. If you have any questions or requests, please direct them to Margarita Khartanovich, CMO at Platform6 via margarita@platform6.fi.