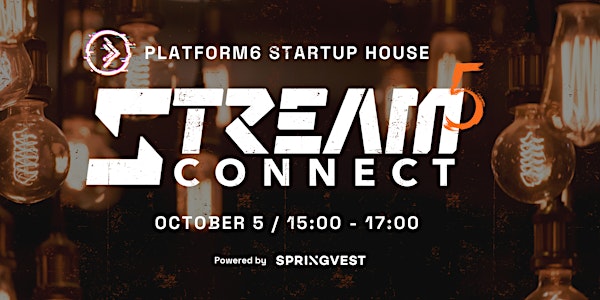 STREAM CONNECT. EPISODE 5. Fundraising in uncertain times
STREAM CONNECT is a series of startup-investor matchmaking and networking events organised by Platform6 and open to all startups in Tampere.
When and where
Location
Platform6 8 Åkerlundinkatu 33100 Tampere Finland
About this event
You are invited to Stream Connect. Episode 5!
The 5th episode of Stream Connect is all about fundraising in uncertain times and is powered by the growth investment company Springvest.
Springvest provides an important channel for growth companies to raise funding and is an enabler of many Finnish success stories. Since its inception, the company has organised 78 funding rounds and mediated more than EUR 201 million in funding (by 27 September 2022).
When: Wednesday, October 5, 15:00 - 17:00
Where: Platform6 startup house, Åkerlundinkatu 8, Tampere
What does startup fundraising look like in 2022? The mood in money and tech circles has changed these past few months, from utter euphoria to panic and doom. The market is now sobering up and investors may be less generous. While we might be in a downturn, building the right habits will help your company solidify its fundraising future.
Programme
15:00 - 15:05 - Opening remarks by Platform6 team
15:05 - 15:20 - Keynote: Fundraising in uncertain times by Päivi Malinen, CEO at Springvest
15:20 - 15:35 - Setting up an investor data room by Ilmo Lounasmaa, VP Marketing & Channels at ContractZen
15:35 - 16:00 - Panel discussion on financing growth in 2022 - 2023: Amanda Lindqvist, Investment Manager at Spintop Ventures, Juha Honkasalo, Head of Marketing at Kiuas, Ilkka Kaikuvuo, Angel Investor and Co-founder of Framery
16:00 - 17:00 - Networking facilitated by Platform6 team
About Springvest
Springvest promotes businesses' growth, development, and commercialization by carrying out funding rounds for growth companies selected as target companies. For target company's investors, Springvest offers the opportunity to participate in funding rounds for unlisted growth companies that would typically be beyond the reach of many investors. Springvest is Finland's leading organiser of share issues for unlisted growth companies. For more information: https://www.springvest.fi

About Platform6
Platform6 is a startup house in the heart of Tampere that opened its doors on the 1st of October in 2020. It offers startups a structured growth path along with a curated space, peer support, global networks and carefully selected services & programmes that help startups at all stages (from ideation to international expansion)grow, scale and access private investments, public funding, mentors, strategic partners, corporates, top talent, customers, etc.
As of now, we have 60+ startups, 7 organisations, 200+ members, and 3 startup programmes, working and running from Platform6 as well as 20 partners to support the startup growth. It is operated by a coalition of startups Tampere Startup Hub and supported by The City of Tampere.
Let's connect!
The capacity of our venue is limited so we ask you to register only if you are sure that you can join the event. Cancel your registration if your plans change. We expect to be sold out fast - reserve your ticket well in advance. If you have any questions or requests, please direct them to Margarita Khartanovich, CMO at Platform6 via margarita@platform6.fi.