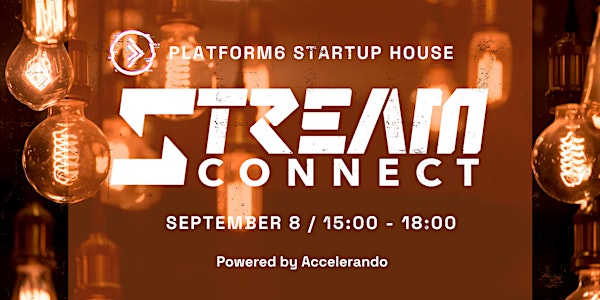 STREAM CONNECT. EPISODE 4. Funding you Global.
STREAM CONNECT is a series of startup-investor matchmaking and networking events organised by Platform6, open for all startups in Tampere.
When and where
Location
Platform6 8 Åkerlundinkatu 33100 Tampere Finland
About this event
You are invited to the fourth episode of Stream Connect powered by Accelerando - a growth accelerator made by an experienced group of professionals in international business growth and development!
When: Thursday, September 8, 15:00 - 18:00
Where: Platform6 startup house, Åkerlundinkatu 8, Tampere
Do you want to learn how to finance the growth of your startup? Should you reach out to angel investors, apply for a grant, chase the VC funds representatives, take a loan? Come to Stream Connect and hear the real stories from startup founders who managed to win the startup funding game as well as all the latest insights from the Accelerando team.
Programme
15:00 - 15:10 - Opening remarks - Alexandra Santos, CEO at Platform6
15:10 - 16:00 - Financing growth (case studies)
MOST Digital: Funding path from inception to successful exit - Olli Ainasvuori, Vice President at Digia Plc
How VCs think, examples? - Marko Tulonen, Founder & Partner VisionPlus Fund at Caranto Capital
CySec: Angel funding to bootstrap businesses - Harri Luuppala, Chairman of the Board at CySec Ice Wall Oy
Gallant Group, Going Global - Tuomas Tahvanainen, CEO at Gallant Finland
16:00-16:30 - Insights from Accelerando - Aleksi Aaltonen, Senior Growth Consultant / Investor / Advisor, Accelerando Oy and Peter Ollikainen, Chairman, Accelerando Oy
Funding round as a process, what how who & when
All possibilities for grants you perhaps didn't even know
Presenting a show case example
16:30 - 18:00 - Networking
Networking facilitated by Platform6 & Accelerando teams
About the speakers
Aleksi Aaltonen, Senior Growth Consultant / Investor / Advisor, Accelerando Oy
Aleksi has 20+ years of experience as an entrepreneur in several startups and growth companies as an owner, investor, CEO, board member, advisor, business developer. He has success stories but failures as well. Aleksi's primary competence is arranging financing from private and public sources, extensive networks and the journey from innovation to a startup to profitable business to global scaling and growth. No boring presentations, just hands-on work and results.
---
Peter Ollikainen, Senior Advisor / Chairman, Accelerando Oy
Peter has more than 25 years of experience in the business world and entrepreneurship. He has 18 years of international experience at Nokia in various roles in mobile phone products and digital services (Club Nokia and Nokia Money), product and sales services, product marketing and business development. Peter has worked as a startup entrepreneur himself (Mistral Mobile Oy) where software solutions were sold e.g. India, Bangladesh and Ghana and as the owner of a business accelerator (First Round Oy). Peter has worked as a full-time consultant at Accelerando as a partner in recent years. Peter also serves on the board of several companies as chairman of the board or as an ordinary member and shareholder. Peter is a passionate developer of new international business. Peter has also lived for 5 years in Asia, China and Singapore.
---
Olli Ainasvuori, Vice President, Digia Plc
"Robots belong to everyone" Since 2016 the robot automation of knowledge work has been in the middle of my work life and great passion for me. #RPA #softwarerobotics #AI #machinelearning are the areas of my everyday job. As the CEO my role is to ensure the best possible conditions for the success of our teams and experts. I also work intensively with sales and customer relationships. Before my time as an entrepreneur and the partner of MOST Digital Ltd I have extensive experience of management positions in the area of finance, consultancy and auditing. My special areas of expertise are strategic planning, business model development and brainstorming of the business opportunities. Nowadays as CEO of MOST Digital Ltd I'am privileged to be in the middle of the great digital revolution with our customers.
---
Marko Tulonen, Founder & Partner VisionPlus Fund, Caranto Capital
Marko has over 20 years' professional experience as an investor, mentor and adviser for start-up and growth companies. Currently working as founder and partner at VisionPlus plc. Has a strong background in internationalisation, investment management, new businesses in the fields of software, digital media and technology companies, representing various venture capital companies as well as himself. Served as commercial counsel in the Finnish Embassy in the Baltic States. Has held board and executive seats in over 15 growth companies and done several successful exits.
---
Harri Luuppala, Chairman of the Board, CySec Ice Wall Oy
Strategy, Leadership, Sales & Execution of Change; Growth & Profit through high value added for and satisfaction of customers & employees. Specialties: Leadership, Execution, Fact-based mgmt, Growth of NS & EBIT, rapid cost-cuttings and Invest in to growth, M&A (dd, data-room, process, transition, integration), out-/insourcing, off-/nearshoring, up-/down-/rightsizing and individual/organisation target-settings.
---
Tuomas Tahvanainen, CEO, Gallant Finland
Tuomas has experience in the accounting profession since 1998. Tuomas has earned a Master in Science of Economics from Aalto University of Economics in Helsinki, Finland and KLT certification in Finland. Currently he is working as CEO in Gallant; Finland based Financial Advisory services company that combines technology and services for the benefit of their customers. His passions are start-up and growth companies with the possibility to change the way we live and think. He has also been a Board Member at EMU Growth Partners Oy (Helsinki based accounting firm) and Association of Finnish Accounting firms. Tuomas has experience working with start-up and growth companies in various industries in roles of CFO or advisor. Among other awards he was part of the team to receive the Internationalisation Award of the President Of Finland in February 2010. Tuomas has been a member of Real Time Economy network in its early steps and has taken part in FIA-project (Fully Integrated Accounting) where he worked as a part of a team that modelled a reporting chart to Finland for public reporting. He is also an expert in ISO - Audit Data Collection standard group.

About Accelerando
The experience backgrounds of Accelerando's partners complement each other so that the know-how covers the needs of both SMEs and growth companies, from financing, product development and productization to international sales, marketing and opening new markets. All of Accelerando's partners have personal experience in both entrepreneurship and international business. During its history, Accelerando has made projects with hundreds of Finnish and international growth companies.
Services
Financing Machine
Financial planning, pitching materials and sparring
Equity financing rounds, VC and angel financing
Debt arrangements
Public subsidies/grants, Business Finland and ELY projects and applications on a turnkey basis
Sales Machine
Organizing the sales process with operating model, target groups and metrics
Sales execution
Marketing development, brands, content and messages
Social selling and growth hacking
Export Machine
Market and customer reports on new markets
Preparation of go-to-market plans
Implementation of the go-to-market plan
Growth Machine
Design from idea to business concept
Production and pricing, customers and value proposition
Design of product development projects
Business models and strategies
Exit Machine
Business and corporate deals

About Platform6
Platform6 is a startup house in the heart of Tampere that opened its doors on the 1st of October in 2020. It offers startups a structured growth path along with a curated space, peer support, global networks and carefully selected services & programmes that help startups at all stages (from ideation to international expansion)grow, scale and access private investments, public funding, mentors, strategic partners, corporates, top talent, customers, etc.
As of now, we have 60+ startups, 7 organisations, 200+ members, and 3 startup programmes, working and running from Platform6 as well as 20 partners to support the startup growth. It is operated by a coalition of startups Tampere Startup Hub and supported by The City of Tampere.
Let's connect!
The capacity of our venue is limited so we ask you to register only if you are sure that you can join the event. Cancel your registration if your plans change. We expect to be sold out fast - reserve your ticket well in advance. If you have any questions or requests, please direct them to Margarita Khartanovich, CMO at Platform6 via margarita@platform6.fi.