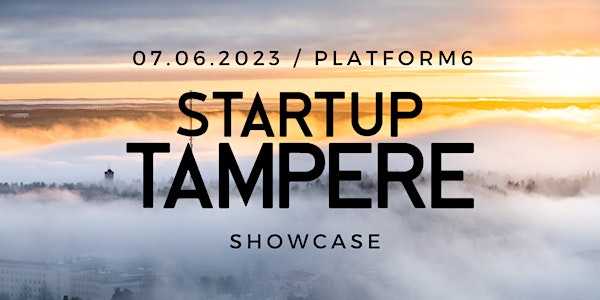 Startup Tampere Showcase + "Urban Imaginarium" Afterwork
This is an unofficial side event of Tampere Smart City Expo & Conference 2023 and Manufacturing Performance Days 2023.
By Platform6 Startup House
Date and time
Wed, Jun 7, 2023 10:00 AM - 8:00 PM EEST
Location
Platform6 8 Åkerlundinkatu 33100 Tampere Finland
About this event
You are invited to Startup Tampere Showcase followed by "Urban Imaginarium" Afterwork at Platform6!
This is an unofficial side event of Tampere Smart City Expo & Conference and Manufacturing Performance Days leveraging and complementing their international and local corporate and investment related programmes and attendees.
Its main goal is to showcase high growth startups based in the Tampere region in the areas of Smart City Development, ICT, Energy, Impact and Deep Tech. This is a great opportunity to get to know and chat with close to 100 startups from the region and hear 25 of them pitch on stage. In addition to this, there will be dedicated slots and spots for speed-dating, ad hoc meetings, an expo area for startup service providers, panel discussions, reverse pitching, office hours and more followed by an afterwork in a relaxed setting.
The event is of special interest to corporates, investors, startups, ecosystem builders, policy-makers, and startup service providers.
Day programme / Open house + pitching
10:00 - 10:05 Welcome Words by Margarita Khartanovich, CMO at Platform6
10:05 - 10:15 Introductions by the event host Ava Koskinen
10:15 - 14:20 Startup Tampere Showcase
10:15 - 10:55 Track 1: ICT & Enterprise Software / SaaS
Startups: Softlandia, NoNoNo, Foxie, Prönö, Kodarit
Experts: Heidi Hurskainen (Founding Partner at Revon Ventures), Lukas Lundin (Data & AI at Microsoft Finland), Tuomas Pahlman (Investor & Founder at Höpöhöpö)
11:00 - 11:40 Track 2: Smart City Solutions & Urban Tech (Energy & Cleantech)
Startups: UDT Technologies, Enion, Ozonium, Nobody Engineering, EVA Global
Experts: Emilie Martinsen Christensen (Project Manager at Nordic Edge), Kaisa Ahonen (Urban Tech Helsinki), Dominique Moralez (mblti)
11:40 - 12:00 Panel Discussion: How EIT Manufacturing brings value to the smart manufacturing hub in Tampere
Panelists: Johanna Stiernstedt (Director at EIT Manufacturing North), Abir Hossain (Business Creation Manager at EIT Manufacturing), Alexandra Santos (CEO at Platform6), Mika-Patteri Kuro (CEO at Helmee Imaging)
12:00 - 12:40 Track 3: Industrial & Manufacturing Innovation
Startups: SUPPLYZ, Liquid Sun, Bamomas, Wield VR, Meluta
Experts: Juha Yli-Petäys (SVP, Global Distribution Management at Metso) and Jaakko Palokangas (Director, Digital Technology Development at Metso), Henri Isohanni (Principle at Helen Ventures), Axel Ahlström (Altor Equity Partners)
12:40 - 13:00 Startup Services Reverse Pitching
Accelerator & Mentoring Programs: Red Brick Accelerator, Nordic Startup Ventures, Tampere Game Incubator
Talent & Employment Business Services: International House Tampere, TE Palvelut, City of Tampere (Kasvupalvelut)
Innovation Ecosystem: Spark Finland & TUNI, Business Tampere
Entrepreneurial Communities: Tribe Tampere, Tampere ES
13:00 - 13:40 Track 4: Responsible Collab & Impact
Startups: MorrowX, Commu, Solar Fire, Crowdsorsa, Virtual Dawn
Experts: Vattan PS (Co-Founder at Founderly, angel investor), Turo Numminen (Sofokus Ventures), Ingmar Kasser (angel investor)
13:40 - 14:20 Track 5: Deep Tech
Startups: Quanscient, Olfactomics, Lakka Health, Winse Power, Memo
Experts: Ilkka Sillanpää (Hegemonia Invest), Caroline Gattner (Maki.vc), Petteri Uusimaa (Modulight)
14:20 - 14:30 - Closing words by Stewart Rogers, CEO and co-founder at the Digital Mental Health Alliance, Editor-in-Chief at Dataconomy Media, Managing Editor at Grit Daily, MC at VentureBeat
Evening programme / Afterwork
16:00 Doors open.
16:15 - 16:20 Welcome words by Alexandra Santos, CEO at Platform6
16:20 - 16:35 Startup Tampere introduction by Vesa-Matti Ruottinen, Development Manager at City of Tampere
16:35 - 20:00 Afterwork with music, drinks, light food, karaoke, rooftop views and fantastic networking opportunities
20:00 Event ends (an unofficial afterparty from 20:00 - Saunaravintola Kuuma, address: Laukontori 21)
ALL DAY PROGRAMME in the whole Platform6 building
Day programme / Open house + pitching
STARTUP TAMPERE SHOWCASE
10 00 - 14:30, available throughout the day
1st floor
Photowall
Registration Desk
Guest Lounge Area
Coffee Station
Open Mic Stage
Ad hoc Meeting Room
2nd floor
Open Offices: Quanscient, Demola
Expo area: pre-startup teams (part of the Dock residency programme) and the City of Tampere
3rd floor
Ad hoc Meeting Room 303
Game Lounge
Open Offices: Commu App, Crowdsorsa, Morrow X
4th floor
Partner Meeting Rooms
Open Offices: Nobody Engineering, SUPPLYZ, Ozonium, Solar Fire, Trackinno
Startup Booths: SmoothTeam, Softlandia, Choicely, Hyprock, Lakka Health, Visuon, UDT Technologies, Foxie, Robustco
5th floor
Main Programme Stage
Speakers' Backstage
Startup Services & Platform6 Partner Expo
_____________________
Break: 14:30 - 16:00
We would like to kindly ask all the guests to use this time to go outside (grab a dinner, visit Nokia Arena for Tampere Smart City Week & Conference, or just take a stroll). Please come back by 16:00 (if you have a sticker, you don't need to re-register for the evening programme, just walk in).
_____________________
Evening programme / Afterwork
URBAN IMAGINARIUM
16:00 - 20:00, available throughout the evening
1st floor
Registration Desk
Karaoke Stage
Drinks Station
Guest Lounge Area
5th floor
Main Programme Stage with the DJ
Drinks & Food Station
Rooftop Terrace
An unofficial afterparty from 20:00 - Saunaravintola Kuuma, address: Laukontori 21
About Platform6
Platform6 is a startup house in the heart of Tampere that opened its doors on the 1st of October in 2020. It offers startups a structured growth path along with a curated space, peer support, global networks and carefully selected services & programmes that help startups at all stages (from ideation to international expansion)grow, scale and access private investments, public funding, mentors, strategic partners, corporates, top talent, customers, etc.
As of now, we have 70 startups, 7 organisations, 200+ members, and 5 startup programmes, working and running from Platform6 as well as 20 partners to support the startup growth. It is operated by a coalition of startups Tampere Startup Hub and supported by The City of Tampere.
Let's connect!
The capacity of our venue is limited so we ask you to register only if you are sure that you can join the event. Cancel your registration if your plans change. We expect to be sold out fast - reserve your ticket well in advance. If you have any questions or requests, please direct them to Margarita Khartanovich, CMO at Platform6 via margarita@platform6.fi.