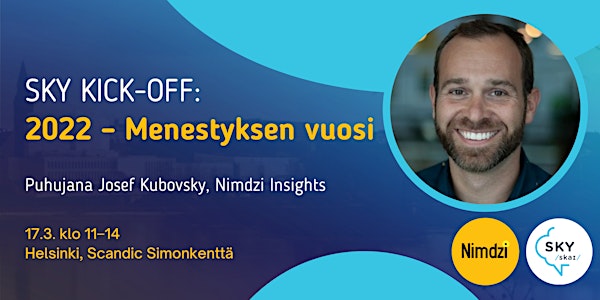 SKY Kick-Off: 2022 – Menestyksen vuosi @ Helsinki, Scandic Simonkenttä
Location
Scandic Simonkenttä
9 Simonkatu
00100 Helsinki
Finland
Refund policy
Contact the organizer to request a refund.
Eventbrite's fee is nonrefundable.
Tervetuloa SKYn Kick-Off-tapahtumaan kuulemaan kielialan uusimmista mullistuksista!
About this event
Vuonna 2021 kielialalla otettiin monia kehitysaskeleita tekniikan ja liiketoiminnan saralla. Tulkkauksessa, multimediassa, konekääntämisessä ja yleisestikin viestinnässä on tapahtunut valtavia muutoksia.
SKYn Kick-Off -tapahtumassa 17.3. Nimdzi Insightsin toimitusjohtaja Josef Kubovsky kertoo kielialan uusimmista ja merkittävimmistä muutoksista, joita on esitelty myös Nimdzin uusimmassa tutkimuksessa Nimdzi 100. Lisäksi hän kertoo näkemyksensä siitä, mikä vaikutus näillä muutoksilla tulee olemaan kielialaan vuonna 2022. Tule mukaan kuulemaan kielialan tuoreimmista trendeistä, ja mihin sinun on varauduttava vuonna 2022 kasvattaaksesi liiketoimintaasi.
Tapahtuma järjestetään Helsingissä Scandic Simonkentässä (tila Tapiola) ja on maksuton SKYn ja EUATC:n jäsenille. Jos et ole saanut vielä ilmaista jäsenkoodiasi, ota yhteyttä SKY@kielipalveluyritykset.fi. Myös ei-jäsenet ovat lämpimästi tervetulleita!
Tapahtumaan sisältyy esityksen jälkeen ilmainen lounas, joka tarjoaa mahdollisuuden verkostoitua muiden kielialan ammattilaisten kanssa.
Josef Kubovsky on toiminut kielialla jo 19 vuotta ja kehittänyt tänä aikana erinomaisen liiketoimintaosaamisen. Suoritettuaan kansainvälisten suhteiden tutkinnon Josef eteni alueellisen käännöstoimiston myyntipäälliköstä sen sivukonttorin johtajaksi, ja tästä edelleen maailmanlaajuiseksi monikielisten kielipalveluiden toimittajaksi. Josef päätyi lopulta myyntipäälliköksi teknologiayritykseen, jossa hän johti 27 hengen maailmanlaajuista myyntitiimiä. Nykyään Josef hyödyntää ainutlaatuista kielen, tekniikan ja myynnin osaamistaan auttaakseen Nimdzin kumppaneita liiketoimintansa kasvattamisessa.
In English:
Welcome to SKY's Kick-Off event to learn about new developments in the language industry.
The year 2021 brought many interesting developments in technology and business to the language industry. There has been a huge shift in interpreting, multimedia, MT, and the way we communicate in general.
In SKY's Kick-Off event on 17 March Josef Kubovsky (CEO, Nimdzi Insights) will mention the most interesting news on all of these shifts identified in the very recent Nimdzi research – Nimdzi 100 and share his view on what impact these changes will have on the language service industry in 2022. Come and listen about the most recent trends in the language industry and what you need to be prepared for in 2022 to grow your business.
The event is held in Helsinki, at Scandic Simonkenttä (conference room Tapiola), and is free for SKY and EUATC members. If you haven't yet received your free member promocode, please contact SKY@kielipalveluyritykset.fi. Also non-members are more than welcome to join!
Lunch is included in the event fee, and offers a great opportunity to network with your fellow language industry professionals.
In his 19 years in the language industry, Josef Kubovsky has developed outstanding business acumen. After receiving a degree in international relations, he worked his way up from sales manager to branch manager at a regional translation company, moving to a global multilanguage vendor, and eventually becoming head of sales at a technology company where he managed a worldwide sales team of 27. Today, Josef is using his unique blend of language, technical, and sales skills to help Nimdzi partners in their pursuit of business excellence and growth.