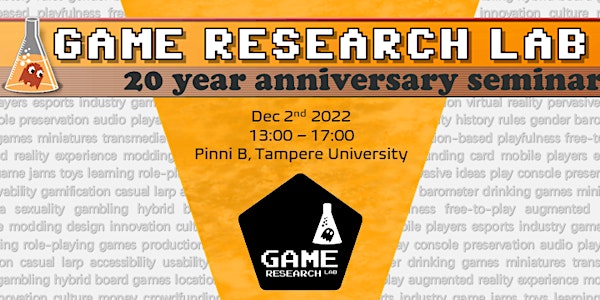 Seminar: Past insights and future perspectives in Finnish game research
Tampere Game Research Lab's 20th Anniversary Seminar: Past insights and future perspectives in Finnish game research
When and where
Location
Pinni B, B1100 1 Kanslerinrinne 33014 Tampere Finland
About this event
Welcome to Tampere Game Research Lab's 20th Anniversary Seminar: Past insights and future perspectives in Finnish game research!
The seminar will be held on Friday 2 December 2022 at 13:00–17:15 at Tampere University auditorium PinniB1100 (Kanslerinrinne 1). The event is free to attend, but please register for coffee service. The seminar programme is partly in Finnish, partly in English.
Seminar programme:
Suomenkielinen ohjelma:
13:00–13:15 Avaussanat / Opening words
13:15–13:45 Frans Mäyrä: Polkuja pelitutkimukseen – akateemisen tutkimusalan perustamisen lyhyt oppimäärä
13:45–14:15 Outi Laiti: Saamelaisuus pelissä – mitä se on ja miksi sillä on merkitystä?
14:15–15:00 Paneelikeskustelu: Pelitutkimustiedon hyödyt yliopistomaailman ulkopuolella
Panelistit: Outi Penninkangas (Suomen pelimuseo), Pekka Ollikainen (Tampereen kaupunginkirjasto, Hyvä peliliike -hanke), Essi Taino (Helsingin kaupungin nuorisopalvelut, Non-toxic-hanke), Jaakko Kemppainen (Pelitaiteen läänintaiteilija), Suvi Latva (Neogames)
15:00–15:30 Kahvitauko / Coffee break
Programme in English:
15:30–16:00 Olli Sotamaa: Some notes on shaping a sustainable research culture
16:00–16:30 Lobna Hassan: From Gamelab to infinity & beyond
16:30–17:00 Hanne Grasmo: Pilgrims and patchwork – The first years of Game Research Lab
17:00–17:15 Ending words / Tilaisuuden päätös