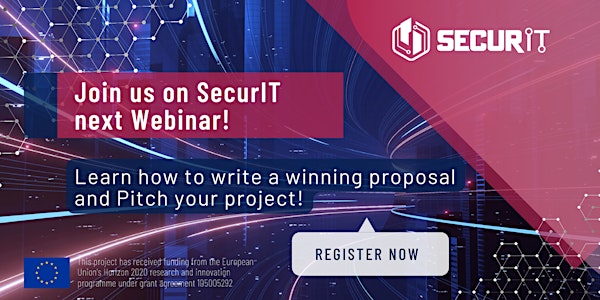 SecurIT Second Open Call First Webinar
SecurIT will select up to 21 projects per Open Call aiming to develop new prototypes or demonstrators in Security and Cybersecurity
About this event
With the launch of the Second Open Call we want to invite you to join our first Webinar.
The main topics will be:
1.SecurIT Open Call rules and requirements 
2. Selection process & criteria
3 How to apply 
4.Q&A
5.Applicants Pitches
During the Webinar you will have the opportunities to pitch your idea: Please send us 1 slide no later than the 11th January at 12:00 at info.securit@fundingbox.com
We will select up to 10 pitches!
By providing this personal information, you confirm that you understand that the data controllers are all entities in the FundingBox capital group as the Joint Controllers. Your personal data will be processed for webinar organization and promoting the project in public spaces. You can find more information about data processing in the information clause under the following link: https://bit.ly/3hePRkT, or you can contact us using the following email address: privacy@fundingbox.com.