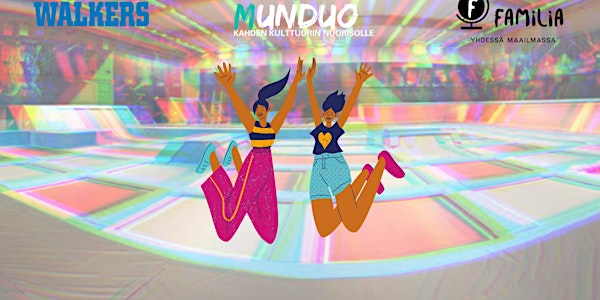 RUSH trampoline park youth day!
FI: Tämä tapahtuma on 15-29 vuotialle nuorille EN: This event is for all youth between the ages of 15-29 years old
About this event
(English below)
Yhdessä Walkers-kahvilan kanssa Familia järjestää nuorille trampoliini-puisto päivän! Haluamme kutsua mukaan nuoria pääkaupunkiseudulta juhlistamaan Familian nuorten ryhmän MunDuon uutta käynnistymistä. MunDuo on ryhmä Suomessa asuville kahden kulttuurin nuorille. Familia maksaa sisään puistoon ensimmäiset 60 rekisteröitynyttä, joten älä missaa tätä ja ole nopea! Seuraa meitä Instagramissa@mun_duo tai tutustu toimintaamme nettisivuillamme https://bit.ly/munduo_fi
HUOM! Olemme tietoisia siitä, että koronavirustartunnat ovat nousussa pääkaupunkiseudulla, ja seuraamme tilannetta tiiviisti. Tällä hetkellä voimassa ei ole rajoituksia, jotka estäisivät meitä tapaamasta trampoliinipuistossa. Ilmoitamme kuitenkin mikäli tilanne muuttuu. Löydät Helsingin kaupungin tämänhetkiset suositukset täältä: https://rb.gy/cbuukr
===============================================================
With Walkers Cafe, Familia is organizing a trampoline park youth day! We want to invite youth from the capital region to join Familia on this day for the re-launch of the youth group, MunDuo. MunDuo is a group for youth of mixed cultures living in Finland. Familia will be paying for the first 60 registrations, so don't miss it! You can follow us on Instagram @mun_duo for more information or on our website at https://bit.ly/munduo_en
NOTICE! We are aware that corona virus infections have been on the rise in the Helsinki area and are monitoring the situation closely. There are currently no restrictions that would prevent us from meeting at the trampoline park, however, we will update you if restrictions or the situation changes. Here is the current recommendations by Helsinki city: https://rb.gy/10kjkk
Organizer of RUSH trampoline park youth day!