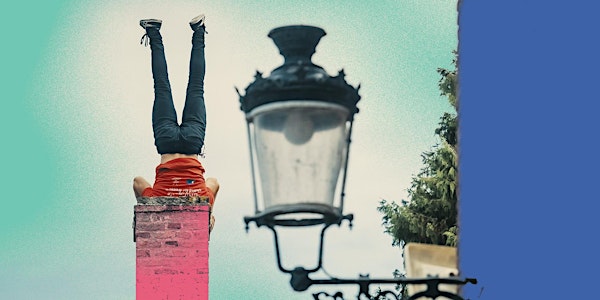 Re Rīga! circus festival: "FOLLOW ME" by BE FLAT
Izrāde "Follow Me" ir unikāla tūre pa Rīgu – ar cirka un parkūra elementiem.
When and where
Location
"Sporta 2" kvartāls 2 Sporta iela 1013 Rīga Latvia
About this event
LV
Šajā neparastajā, aizraujošajā izrādē pilsētas ielas, ēku fasādes un ietves zem kājām tiek pārvērstas urbānā cirka arēnā. "Follow Me" (jeb "Seko man!") nav izrāde, kas vienkārši jāskatās – tas ir aizraujošs kolektīvs ceļojums cauri publiskajai telpai. Izslēdziet telefonus, sasieniet kurpju šņores un aidā!
Šajā vietai pielāgotajā izrādē cirka mākslinieku duets konfrontē un spēlējas ar publisko telpu šeit un tagad. Vards Mortjē un Tomass Dekestekers ved skatītājus un arī līdzi sekotājus akrobātiskā un teatrālā ceļojumā pa iepriekš sagatavotu pilsētas maršrutu, kurā saskaras ar dažāda veida "ikdienas" situācijām. Katras performances saturs ir atkarīgs no konkrētās vides, kurā tā tiek rādītā, līdz ar to katra performance ir unikāla. 
"Be Flat" lūko nojaukt robežu starp skatītāju, mākslinieku un garāmgājēju, padarot viņus visus par vienlīdzīgiem performances dalībniekiem.
------------
Apmeklējot pasākumu, jūs piekrītat, ka publicitātes nolūkos:
• varat tikt fotografēts un filmēts;
• jūsu attēls var tikt izmantots TV un interneta translāciju laikā, filmās, fotogrāfijās, audiovizuālajos ierakstos u.c. masu mediju publikācijās.
ENG
The two acrobats of Be Flat have prepared a unique tour of Riga for a select group of followers. The streets of the city, the facades of the buildings and the cobblestones below are transformed into an urban circus piste. But "Follow Me" is not only a performance to be watched, it is a playful collective journey through public space. So turn off your cell phones, tighten your shoelaces, and let's go!
In Follow Me two 'urban acrobats' interpret the public space. The duo invites you to become part of the followers and thus discover the city in a unique way. The streets of the district are transformed into a stage with the facades as a backdrop, the cobblestones as a dance carpet and the traffic as a soundscape. Follow Me is the first production of Be Flat (creation 2017-2018). An acrobatic performance that is rewritten per location. A continuous adaptation process in which the environment is the determining factor.
RUS
Акробатический дуэт объединения Be Flat создал для небольшой группы последователей уникальный тур по Риге. Городские улицы, фасады зданий и тротуар под ногами превращаются в арену урбанистического цирка.
Представление «Follow Me» (Следуй за мной!) нужно не просто смотреть – это увлекательное коллективное путешествие через публично доступное пространство. Выключите телефоны, затяните шнурки и – вперед!