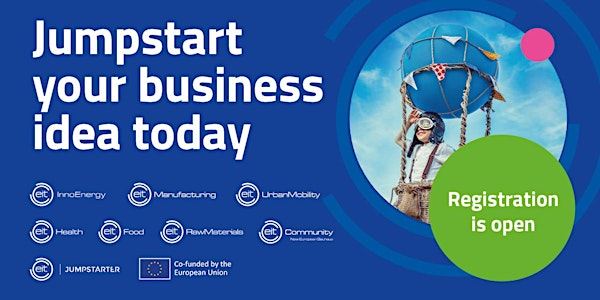 Pre-Jumpstarter training (Latvia): How to apply to support programmes?
Join this free online workshop and find out how to apply for the EIT Jumpstarter and develop your innovative business idea!
About this event
Do you want to learn how to present your innovative business idea and apply for support to facilitate its development?
On April 1, from 3:00 p.m. to 5:00 p.m. , we invite you to a free online workshop on how to successfully apply to startup support programs.
During the event:
You will learn what EIT Jumpstarter is, who can apply and what benefits there are for participants,
You will learn how to complete an application form to increase your chances of getting into the EIT Jumpstarter program,
You will learn what the language of benefits is and how to use it to support the development of your business.
Join us if:
You have an interesting, innovative idea and you would like to see if you can create your own business based on it,
You want to start a startup and would like to meet other people who also think about it,
You are not determined, but you would like to learn how to present your idea and apply to entrepreneurship support programs, know what they offer and what they require,
You meet all of the above criteria and wish to apply to participate in the EIT Jumpstarter.
The workshop is co-organised by the RTU Science and Innovation Centre and EIT Food as part of the EIT Jumpstarter program.
About EIT Jumpstarter
EIT Jumpstarter is a six-month program for all those who have an interesting, innovative ideas and would like to check it, develop and turn into their own company. The program supports innovative ideas related to food, health, energy, raw materials, industrial production, transport and mobility.
The EIT Jumpstarter is open to students, PhD students, researchers and aspiring entrepreneurs and helps them build a business model. Program participants will receive the help of trainers and mentors and have a chance to win up to 10,000 euros.
More information about the program is available on the project website and on Facebook.
About EIT Food
EIT Food is the world's largest and most dynamic food innovation community. We accelerate innovation to build a future-fit food system that produces healthy and sustainable food for all.
Supported by the European Institute of Innovation and Technology (EIT), a body of the European Union, we invest in projects, organisations and individuals that share our goals for a healthy and sustainable food system. We unlock innovation potential in businesses and universities, and create and scale agrifood startups to bring new technologies and products to market. We equip entrepreneurs and professionals with the skills needed to transform the food system and put consumers at the heart of our work, helping build trust by reconnecting them to the origins of their food.
We are one of eight innovation communities established by the European Institute for Innovation & Technology (EIT), an independent EU body set up in 2008 to drive innovation and entrepreneurship across Europe.
Find out more at www.eitfood.eu or follow us via social media: Twitter, Facebook, LinkedIn, YouTube and Instagram.
PERSONAL DATA PROCESSING
By registering for the event, you consent to the processing by EIT Food Hub Latvia of your personal data contained in the application in accordance with the following clause. Remember that your data will be collected, processed and used in accordance with the Regulation on the Protection of Personal Data and used only for contact purposes.