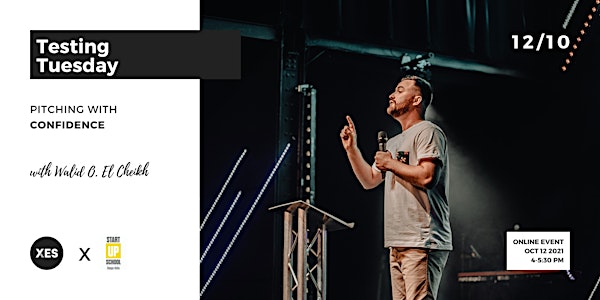 PITCHING WITH CONFIDENCE
"Speech is power: speech is to persuade, to convert, to compel." - Ralph Waldo Emerson
About this event
Pitching is one of the most powerful skills for an entrepreneur.
Would you like to get real pitching tips?
Welcome to our workshop: PITCHING WITH CONFIDENCE
On this workshop you will learn how to:
- Present anything to anyone with comfort, ease, and joy
- Adopt Pitching For Life as a mindset and tool
- Balance content creation with delivery optimization
Speaker: Walid O. El Cheikh
Author: Pitching For Life (2019) / Pitching with Confidence (June 2021)
Speaker & Mentor (Topic: early-stage entrepreneurship & presentation skills
Coached 10000+ people & lectured in 30+ countries in schools and universities
Audience: startup founders, students, workers, designers, artists, leaders, etc…
Coaching style: learn by doing, build confidence and exercises
Background in entrepreneurship, hospitality, executive education & sales.
Designing world-class entrepreneurship programs and courses
Lebanese / Ukrainian living in Helsinki, Finland
I am a pitching coach and program director for early-stage entrepreneurship programs. I have trained thousands of people from 30+ countries. I started with startup founders and executives, and now I coach almost anyone from any age group e.g. students, employees, managers, artists, designers, engineers, PhD researchers, job seekers, Ambassadors, government officials and basically anyone.
I love helping people to get closer to their dreams and goals in life via pitching and entrepreneurship. It worked for me and many others I have coached! I really enjoy meeting talented, ambitious and passionate people and I encourage them to adopt pitching-for-life as a mindset. And, I show them tools and techniques to present from the heart with ease, comfort and joy and create strategic MVPs, products, services, and concepts.
⏰ When and How?
HYBRID EVENT
12 Oct 16.00 Online via zoom webinar.
or at Xes Corner, Haaga-Helia Pasila campus, 1st floor, room 1002
👉 This event is free
This event is hosted by Xes Helsinki
Founded in 2018, Xes is a community of entrepreneurially-minded people based in Helsinki, Finland. It serves as Haaga-Helia University of Applied Sciences' entrepreneurship society.
Xes's purpose is to inspire people about entrepreneurship, provide a platform for members to grow and increase their professional network.
Xes is part of the 3AMK Entrepreneurship Society Alliance together with Laurea Entrepreneurship Society and Metropolia Entrepreneurship Society.
More about XES: https://www.xeshelsinki.com
You will get the link to webinar 24h before event starts.