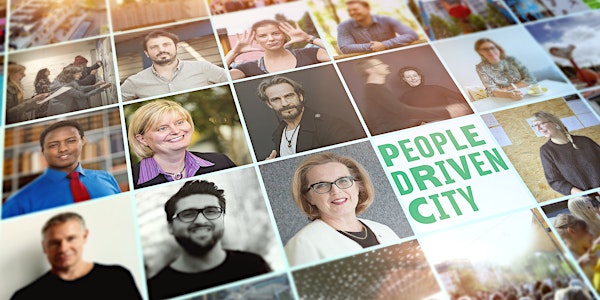 People-Driven City 2019
By Urban Practice ltd., programme of 'Lähiöfest' – festival of neighbourhoods
Date and time
Friday, September 27, 2019 · 9am - 5pm EEST
Location
Dipoli Otakaari 24 02150 Espoo Finland
Description
URBAN CONFERENCE ///

KAUPUNKISEMINAARI
---
How do we create more inclusive urban spaces in an increasingly complex urban context?
How can citizens learn and gain better understanding about their cities – and vice versa?
Crowdfunding and public projects – match made in heaven or road to chaos?
Is a desirable, sustainable and also affordable neighbourhood an utopian dream?
How do we empower locality in a fast growing, ever-changing city?
'People-Driven City' is the main conference of 'Lähiöfest' – festival of neighbourhoods. In 2019 Lähiöfest takes place in four different Finnish cities: Espoo, Riihimäki, Kauniainen and Helsinki. Findings and learnings of the festival will be shared and digested during the conference – this year located in Dipoli, the beautiful gem of the architectural couple Raili and Reima Pietilä at the campus of Aalto University.
Expect a whole day of inspiring keynote speakers, engaging discussions and workshops on urgent urban topics and interesting case studies from cities around the world.


PROGRAMME


SPEAKERS
Michel Rojkind, Architect and Founder / Rojkind Arquitectos, Mexico City
Kimon Moerbeek, Director and Education Advisor / Kennisland, Amsterdam
Christina Lindbäck, Senior Vice President Corporate Sustainability / NCC, Stockholm
Kristian Koreman, Architect and Founder / ZUS (Zones Urbaines Sensibles), Rotterdam
Amin Khosravi, Urban Strategist and Partner / Urbz, Geneva
Ahmed Abdirahman, Founder of Järvaveckan, Social Sustainability Expert at Stockholm Chamber of Commerce / Stockholm
Maria Derlõš, Project Manager and Lasnamäe Community Activist / Linnalabor, Tallinn
Saku Tuominen, Founder and Creative Director / HundrED, Helsinki
Päivi Sutinen, Director for City as a Service Development / City of Espoo
Heidi Backman, Director of Education and Culture / City of Kauniainen–Grankulla
Päivi Raivio, Designer, Placemaking Expert and Founder / RaivioBumann, Helsinki
Tanja Jänicke, Designer and Founder / Yhteismaa, Helsinki
Niko Riepponen, Participation Designer / City of Espoo
Pedro Aibeo, Architect, Researcher and CEO of Gamified Cohousing / Helsinki
Elina Wanne / City of Espoo, Anniina Korkeamäki / City of Riihimäki, Alpo Tani / City of Helsinki
Moderators: Katja Lindroos, Heidi Kalmari, Ramon Maronier / Urban Practice, Helsinki
Main language English, workshops in Finnish.
Urban Practice reserves the rights to any changes in the program.
Coming to the conference with a group? Group (min. 3 tickets) 99€ per ticket.
SCHEDULE
> see the schedule of the day on our website
THANK YOU
'People-Driven City' is made possible with the kind support of our partners:
Aalto University
Finnish Architecture Information Centre
Aalto Living+
The Embassy of the Netherlands
The Embassy of Estonia
Finnish Cultural Institute for the Benelux
The Swedish-Finnish Cultural Foundation
Museum of Finnish Architecture
City of Espoo – Lähiöfest2019 host city
City of Riihimäki – Lähiöfest2019 event city
City of Kauniainen – Lähiöfest2019 event city
NCC – Lähiöfest2019 main partner
Innovarch – Lähiöfest2019 main partner
K-Market – Lähiöfest2019 main partner
City of Helsinki – Lähiöfest2019 campaign city
City professionals and enthusiasts from near and far – welcome to PEOPLE-DRIVEN CITY and the city of Espoo!
This is the 2nd edition of PEOPLE-DRIVEN CITY. The 1st was organised as part of Lähiöfest2017 programme in Helsinki.
----------
Kansainvälinen huippuseminaari kaupungeista tuo Dipoliin Espoon Otaniemeen kiinnostavimmat esimerkit maailmalta ja meiltä kestävästä kaupungin kehittämisestä, paikallisuuden vahvistamisesta, osallisuudesta ja tulevaisuuden visioista.
Tule inspiroitumaan huippupuheista, keskusteluista, työpajoista ja tietenkin Aallon kampuksen ainutlaatuisesta arkkitehtuurista!
Pääkieli englanti, puheita ja työpajoja myös suomeksi.
Urban Practice pidättää oikeudet ohjelmamuutoksiin.
Ryhmä (vähintään 3 lippua) 99€/lippu
Kaupunkien tekijät ja rakastajat kaikkialla – tervetuloa PEOPLE-DRIVEN CITY -seminaariin Espooseen!
About the organizer
'People-Driven City' and 'Lähiöfest' are initiated and produced by Urban Practice ltd., a Helsinki-based office for citymaking.
Lähiöfest is a celebration of neighbourhoods that brings parties from all sectors of society behind a shared goal: to empower locality. 
In 2019 the Lähiöfest event week takes place in the city of Espoo at the end of September. Findings and learnings of the whole festival will be shared during People-Driven City, the main conference of the event week.