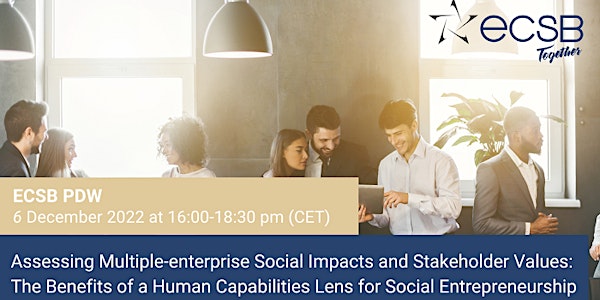 PDW: Assessing Multiple-enterprise Social Impacts and Stakeholder Values
Workshop on the Human Capabilities Approach and social impact in social entrepreneurship.
About this event
2 hours 30 minutes

Mobile eTicket
Workshop description
Today, the inclusion of social and sustainable impact considerations has become increasingly salient when defining risks, strategy, corporate governance and enterprise purpose. While profit measures remain necessary for assessing an enterprise's progress, success today has to also more broadly account for societal and sustainability impacts. With increasing scrutiny of business enterprises from regulators, watchdog civil society organizations, the general public and competitors, enterprises that ignore their accountability to social impacts now risk exposing themselves to heightened competitive disadvantages.
In this workshop, we investigate how we can better understand and assess impact in settings of social entrepreneurship by means of the Human Capabilities Approach (HCA) as a multidimensional, robust framework of assessment. The HCA, already widely used in the world of development economics and international aid, allows practitioners to capture what stakeholders deeply value, and then establish realistic metrics with which to assess policies meant to improve stakeholder well-being. The framework supports a non-reductive view of what people value, helping to shift conversations, negotiations, and impact assessments beyond more limited fiscal or resourcist views.
This workshop provides social entrepreneurs with a working understanding of the HCA as a multi-dimensional, non-reductive framework that provides a fertile ground for conversation, negotiation, and coordination among the numerous players needed to implement impactful social innovation. By role-playing various stakeholder groups, confronting multiple and conflicting agendas, and assessing these through a HCA framework, workshop participants are encouraged to shift their entrepreneurial awareness beyond singular isolated impacts towards the broader set of multi-faceted (social-sustainable) impacts of an enterprise.
Use of HCA is increasing in the field of business and social entrepreneurship, as evidenced by Oxford's rapidly expanding SOPHIA initiative, a consultancy that provides training and toolkits for businesses looking to adopt an HCA lens for impact assessment and social entrepreneurial design processes. Through the exercises listed above, we explore how HCA allows corporate decision-makers and entrepreneurs to better identify who their key stakeholders are and what they value, as well as engage in partnerships with stakeholders to promote responsible, positive social innovation.
Target Group and Objectives
This workshop appeals to entrepreneurship and intrapreneurship engaged scholars/practitioners and to decision makers in social enterprises. It is especially relevant to those interested in developing their own enterprise-specific social impact perspective and assessment to tackle grand challenges in start-up social enterprises, or in corporate social initiatives/projects within existing corporations. The HCA framework may also interest researchers and practitioners concerned with board-level performance and strategic assessments for social innovation and impact assessment, for impact investors, and for civil society monitoring or government policy-makers working on multi-stakeholder initiatives.
Objectives include the following:
Understand the deeper conceptual grounding of the HCA as a focus on the doings and beings (functionings) that stakeholders have reason to value.
Gain understanding of the practical importance of recognizing multiple dimensions of values into social entrepreneurial spaces.
Understand the HCA lens as a robust tool for framing design processes, negotiation, collaboration and impact assessment in social entrepreneurial settings.
Gain a sense of interactions among layers of stakeholders involved in social entrepreneurial settings, including how to recognize and negotiate goals and metrics in terms of shared stakeholder values.
Gain a practical understanding of the difference between multi-dimensional, non-reductive metrics and mono-dimensional, single-currency metrics (including weighted indices).
Format
This two and a half hours workshop is largely interactive. The workshop features breakout groups on Zoom as well as the Miro whiteboard for many of the exercises. Workshop participants are encouraged to use a large (non-mobile phone) screen, preferably on a laptop or computer that can easily toggle between Zoom and the Miro whiteboard.
The workshop consists of four modules, three of which facilitate group conversation in the context of a relevant social entrepreneurial case study. The workshop includes a 10 minute break between modules 2 and 3, and a discussion session at the end to encourage group collaboration, networking, and feedback.
Why should business enterprises make use of the Human Capabilities Approach for (societal) impact assessments?
Entrepreneurs, intrapreneurs and decision-makers in social enterprises are often visionary change-makers who have excellent new ideas and experiment with innovative approaches to try to remedy societal issues for the better. They are however also challenged with identifying how best to serve their target clients and stakeholders, and how best to identify what their deeper needs are. HCA provides a means for understanding what people need from a multidimensional view – not simply a change in their income or a similar metric, but a holistic view of what kinds of real "doings and beings" matter to people, both as individuals and as groups of people – such as communities, cities, or business organizations - that have a shared sense of identity. While many other impact assessment frameworks fixate on resources, productivity or efficiency rooted in accountancy and engineering doctrines, the Human Capabilities Approach is distinctly developed from principles of human development and development economics. It is vitally people-centered, highlighting people's needs, issues and values as the core of how social arrangements – such as business enterprises – are formed and progress.
Workshop facilitators
Raphael Ng (HHL Leipzig Graduate School of Management, Germany)
Raphael's research in economic and business ethics focuses on social impact, business and human rights, environmental social and governance (ESG) issues, and stakeholder theory. His present doctoral work applies the HCA to business enterprises to broaden impact assessment. He conducts his research at the HHL Leipzig Graduate School of Management in partnership with the Wittenberg Center for Global Ethics (WCGE) and the Weltethos Institut at the University of Tübingen (WEIT). Raphael is a coordinator of the Human Development Capability Association's (HDCA) Early Career Researchers and Practitioners Network (ECRPN).
Dr. Travis Chamberlain (UC San Diego, Rady School of Management, USA)
Travis has a PhD from the University of California San Diego (UCSD) in Philosophy of Science, focusing on measurement and the capabilities approach. Travis' research interrogates the philosophical concepts underlying contemporary capabilitarian metrics, and offers suggestions for practical matters such as how different kinds of capabilitarian metrics (and operationalizations of those metrics) are suited for different contexts of application. Travis is currently a lecturer at the UCSD Rady School of Management, instructing a course on 'Managing Diverse Teams'.
Deadline for Registrations 4 December 2022.