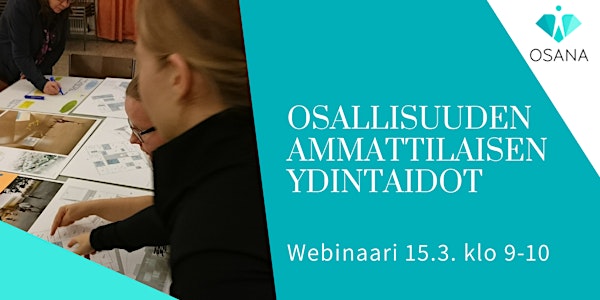 Osallisuuden ammattilaisen ydintaidot -webinaari
Julkisen vuorovaikutuksen ja osallisuuden ammattilaisten IAP2:n lähestymistavat ja työkalut - kolme poimintoa tulevista valmennuksista
By Osana yhteistä ratkaisua oy
Date and time
Wed, Mar 15, 2023 12:00 AM - 1:00 AM PDT
About this event
Tunnetko julkisen osallisuuden kansainväliset ydinperiaatteet, eri osallisuuden tasojen käytön ja keinoja selviytyä myös vaikeista tilanteista? Tule oppimaan työkaluista, joita kansainväliset osallisuuden ja vuorovaikutuksen ammattilaiset IAP2:ssa (International Association of Public Participation) käyttävät ja kouluttavat.
Webinaarissa kuulet, millainen IAP2:n kansainvälisen osaajajoukon yhteen keräämä, jäsennelty ja suunnitelmallinen lähestymistapa osallisuuteen on.
- Miten luodaan eettisesti kestävää osallisuutta hyvän julkisen vuorovaikutuksen ydinperiaatteiden avulla?
- Miten hallitaan osallistujien ennakko-odotuksia ja sitoutetaan oma organisaatio tulosten käyttöön?
- Miten huomataan ja ennakoidaan jännitteitä erityisesti vaikeissa aiheissa ?
Osanan Lari Karreinen ja Tanja Korvenmaa kertovat käytännön esimerkein miten ovat perustaneet työtään kansainvälisen osallisuusammattilaisten IAP2:n työkaluihin ja ammatillisiin viitekehyksiin. Lari on käynyt Yhdysvalloissa IAP2:n Foundations of Public Participation -kurssit ja Kanadassa Strategies for dealing with opposition and outrage -kurssin ja nyt saat niiden parhaita paloja itsellesi.
Webinaarissa saat myös ennakkotietoa IAP2:n julkisen sektorin osallisuus- ja vuorovaikutustyön syventävistä valmennuksista, jotka Osana on tuomassa Suomeen tänä keväänä ja syksyllä 2023.
IAP2:n valmennukset auttavat ammattilaisia toteuttamaan polarisoituvassa ja kompleksisemmassa ympäristössä rakentavia, eteenpäinvieviä ja eettisesti kestäviä vuorovaikutusprosesseja.
Jos työsi sisältää vuorovaikutusta kuntalaisten tai hyvinvointialueen asukkaiden kanssa, hankkeiden vuorovaikutussuunnittelua, asiantuntijoiden ja johtajien valmentamista tai julkisen hallinnon kehittämistä osallisuuden suuntaan, lämpimästi tervetuloa mukaan!
Webinaari toteutetaan Teamsillä keskiviikkona 15.3.2023 klo 9-9.45. Sen jälkeen voit jäädä vetäjien kanssa keskustelemaan vielä vartiksi.