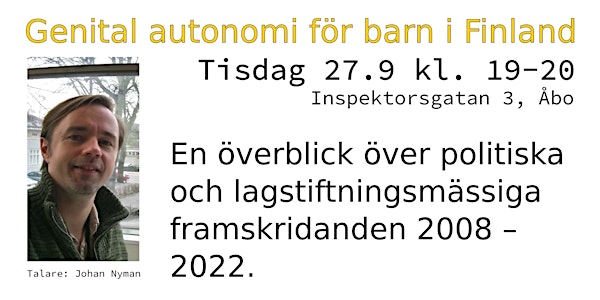 Öppen infokväll: Genital autonomi för barn i Finland
En överblick över politiska och lagstiftningsmässiga framskridanden 2008 – 2022. Tillfället ordnas på svenska
When and where
Location
TYS Aitiopaikka 3 Inspehtorinkatu 20540 Turku Finland
About this event
Genital autonomy for children in Finland
An overview of policy and legislative developments 2008 – 2022.
The language of the event is Swedish.
---
Infokvällen äger rum i ett av Studentbystiftelsens föreningsrum, på Inspektorsgatan 3 i Åbo. Byggnaden är såpass ny, att Google Maps inte visar rätt plats utgående från adressen, men matar man in TYS Aitiopaikka visas rätt plats i Google Maps. Direktlänk till kartpunkten för byggnaden: https://goo.gl/maps/MgJv5XWz9WZXkNCm8
Det kommer att finnas möjlighet till frågor och diskussion i samband med föredraget. Evenemanget kommer att streamas via nätet för distansdeltagare, men enbart talaren kommer att synas i bild, inte övriga deltagare i utrymmet.
Direkt efter evenemanget, från kl. 20, finns det möjlighet för infokvällens deltagare att fortsätta samvaron under husets bastukväll. Två bastur finns till förfogande; separat för kvinnor och män. Ifall du önskar delta även där, ta med dig egen handduk.
Livestream:
https://youtu.be/sXQZb8UpM14
Anmäl dig här
https://docs.google.com/forms/d/e/1FAIpQLSd0l7ixqlQpaShyV8gakniu6RaiGiEQ4Ackq7JjylMrNpRtyA/viewform?usp=pp_url&entry.1103503945=Jag+deltar+p%C3%A5+plats+i+%C3%85bo+27.9+%28svenska%29