Olga Spyropoulou & Katriina Kettunen: To organise our disappointments
About this Event
Olga Spyropoulou & Katriina Kettunen: To organise our disappointments
Date & Time: Sunday 6 September 2020 at 12.30
Venue: Taidehalli, Vanha Suurtori 5, 20500 Turku
Duration: 1 hour
Language: English
Free admission/ registration required
New Performance Turku Festival Side programme / In collaboration with Turun Taidehalli / Kunsthalle Turku
To organise our disappointments is a joyride into failing. In this participatory performance, artists Olga Spyropoulou and Katriina Kettunen explore how disappointments occur and how they persist, stored in little pockets of memory called "things" and then put away yet in close proximity.
The performance is an intimate encounter between two performers, a box of troublesome objects, and a small audience. During the one-hour-long performance, the artists share fragments of their lives through a close inspection of these objects and ask the audience for help in organising them in a display that leaves everyone happy. For a moment.
To organise our disappointments is part of the Reality Research Center's OFF programme 2020 and presented in Turku in collaboration with New Performance Turku Festival and Turku Kunsthalle. The performance is free of charge, but due to COVID-19 and limitations of the space, we ask you to sign up beforehand.
NOTE. Please do not attend the performance if you feel ill. Also, please maintain a safe distance between yourself and other people present.
Olga Spyropoulou (b. 1985, Athens) is a performance artist and researcher who utilizes disorder as an artistic practice. She is interested in how we relate to each other and experiments with different modalities of spectactorship and non-hierarchical methodologies.
Katriina Kettunen (b. 1983, Kirkkonummi) is an interdisciplinary artist and journalist, who's performances often employ mixed media and autobiographical material, and are marked by humor, improvisation and subtle audience participation. The two began their collaboration in 2017 during their MA studies in Live Art and Performance Studies at Uniarts Helsinki.
Photo credits: Katriina Kettunen & Olga Spyropoulou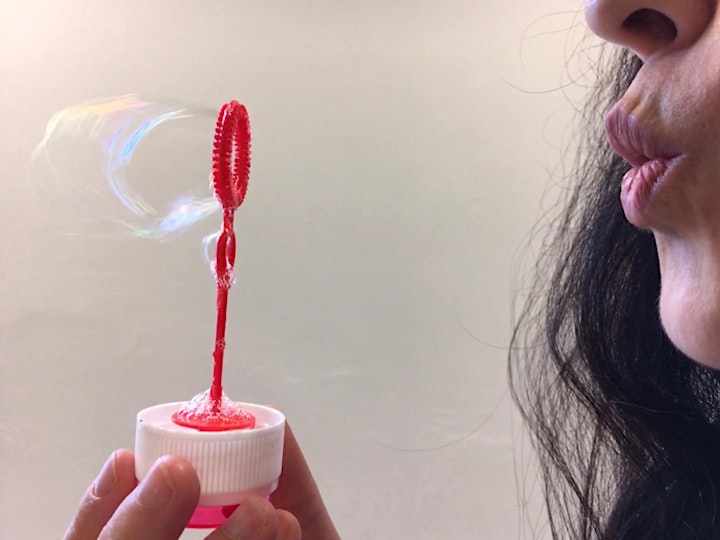 Olga Spyropoulou & Katriina Kettunen: To organise our disappointments
Sunnuntaina 6.9. klo 12.30
Turun Taidehalli, Vanha Suurtori 5, 20500 Turku
Kesto n. 1 tunti, kieli englanti
Vapaa pääsy / ilmoittautuminen vaaditaan
New Performance Turku Festivalin OFF-ohjelmistoa, Yhteistyössä Turun Taidehalli
To organise our disappointments on huviretki pettymysten maailmaan. Noin tunnin kestävän esityksen kuluessa taiteilijat Olga Spyropoulou ja Katriina Kettunen sanoittavat elämänsä pettymyksiä yleisölle. Mistä ne syntyivät ja minkälaisia jälkiä ne jättivät? Esityksen keskiössä on laatikollinen harmillisia esineitä, joille pitäisi löytää paikka.To organise our disappointments on osa Todellisuuden tutkimuskeskuksen vuoden 2020 OFF-ohjelmistoa ja esitetään Turussa yhteistyössä New Performance Turku Festivalin ja Turun Taidehallin kanssa. Esitykseen on vapaa pääsy, mutta korona-pandemian ja tilan rajoitusten vuoksi pyydämme varaamaan paikan etukäteen. Paikkoja on rajattu määrä.
HUOM. Ethän tule esitykseen, jos olet yhtään kipeä. Muista myös säilyttää turvallinen etäisyys muihin paikalla olijoihin.
Olga Spyropoulou (s. 1985, Ateena) on performanssitaiteilija ja tutkija, joka hyödyntää epäjärjestystä taiteellisena käytäntönä. Hän on kiinnostunut siitä, kuinka ymmärrämme toisiamme, ja tutkii erilaisia katsojuuden muotoja sekä ei-hierarkkisia työtapoja esityksissään.
Katriina Kettunen (s. 1983, Kirkkonummi) on esitystaiteilija ja toimittaja, jonka työlle ominaista on henkilökohtaisuus, eri medioiden risteyttäminen sekä yleisön lempeä osallistaminen. Kaksikon yhteistyö alkoi vuonna 2017 Taideyliopiston Live Art and Performance Studies -maisteriohjelmassa.
Photo credits: Katriina Kettunen & Olga Spyropoulou