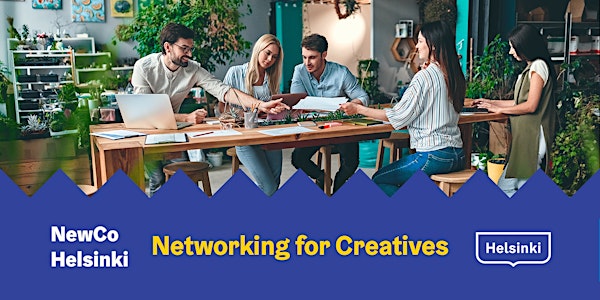 Networking for Creatives
Welcome to our networking event for creatives on 30.11. at Kansakoulukatu 3. Meet like-minded people and discuss collaborations together.
When and where
Location
KOO3, Business Helsinki (4th floor) Kansakoulukatu 3 00100 Helsinki Finland
About this event
The event is fully booked. Unfortunately we can't take in more registrations. Thank you for everyone interested in the event!
Networking Event for Creatives is open for all entrepreneurs on the field and people interested on the topic.
Our guest speaker Professor of Strategic Design Anna Valtonen will be opening our event by talking about designing change. In addition to Anna's inspiring speech we will have time for networking. Finnish hot winter drink, glögg ("glögi"), is served during the event.
"Many things are changing, in our everyday lives, work and society. Technological development, digitalization and climate change have brought about challenges related to social inequality, business operations and environmental issues, which have been further exacerbated by the pandemic and political havoc of recent years.
However, change is always also an opportunity. Many organizations are now trying to respond to changes surrounding them. What can we do to change? How should we question and challenge existing structures and practices? What concrete ways are there for creating something new? Design, too, has changed. In recent decades, design has expanded from the design of objects and products into more strategic approaches, with new foci on leadership, sustainable development, social innovation and societal transitions. We have also seen the emergence of new forms of value creation beyond profit, engaging leaders, industries and communities.
Together we can and expand on the discussion of how we can design change, and how we can use creativity to make change happen." - Anna Valtonen
Anna's speech is followed by a group discussion. The networking part of the event allows the participants to network with each other either freely or by taking part in our facilitated networking activities.
16:00 Event begins (greetings and glögg)
16:30 Guest speaker: Anna Valtonen, Professor of Strategic Design
17:15 Networking
18:30 Event ends
The event is free of charge for all. Welcome!