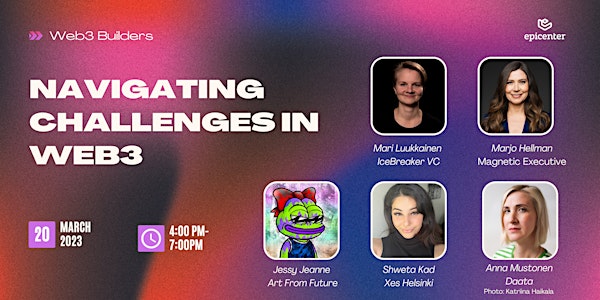 Navigating challenges in web3
Join our speakers as they share strategies for fundraising in bear markets, and explore other challenges facing the web3. Don't miss out!
Date and time
Monday, March 20 · 4 - 6:30pm EET
Location
Epicenter Mikonkatu 9 00100 Helsinki Finland
About this event
About this event:
Join us for a thought-provoking discussion on the challenges facing the web3 community, from fundraising in bear markets to diversity and inclusion. Our expert panel will share their experiences and insights on how to navigate these challenges, and what strategies they've employed to overcome them.
Whether you're a true OG or just starting out in the web3 world, this event is for you. Gain valuable insights into the current landscape of web3, and learn about the latest trends and developments in this rapidly evolving field.
We'll explore a range of topics, including fundraising, scalability, the role of women in the web3 space, and more. You'll have the opportunity to network with other web3 enthusiasts and professionals, and exchange ideas and experiences.
Speakers and panelists:
1. Mari Luukkainen
Principal at Icebreaker.vc with a portfolio of 100+ startups. Ex-growth operator of a 15% profitable MoM startup. Founder of a non-profit creating tech jobs for immigrant women, Herizon.io. Investor of the year in NWITA.
2. Anna Mustonen
Anna Mustonen is the Head of Curatorial and Content at Daata, the leading platform for digital art that produces, commissions, exhibits, curates, and sells all forms of digital art. Anna has long experience working in both public and private sectors, from museums such as Tate Modern and Kumu Art Museum to internationally renowned galleries Victoria Miro and Haunch of Venison.
3. JessyJeanne
JessyJeanne is an artist, collector, curator and founder of three web3 projects. One of her projects is Art From Future, which is a DAO that concentrates on digital art and decentralised curation. Another project she co-founded is Gxrls Revolutions, a collective that empowers women artists in web3 through yearly catalogs, online/offline education, and events.
4. Marjo Hellman
Marjo is an experienced CEO, International Executive Communications Coach, and speaker. As the founder of Magnetic Executive Coaching, Marjo specializes in helping high-achieving executives and organizations to become the #1 leaders in their field. Being a non-technical person, Marjo became interested in web3, and she is a strong advocate for the new communication and business opportunities presented by the metaverse.
5. Shweta Kad
Shweta is currently the Executive Director and Advisor at Xes Helsinki, and co-founder of Web3 Summit Helsinki. Being a non-professional web3, she firmly believes that "anything is possible." Shweta has always had a passion for supporting the student community, recognizing that young people are the future and the seed of everything.
Join us and be part of the conversation on how to navigate the challenges facing the web3 industry, and how to build a more inclusive and resilient community for the future.
Agenda
4:30 PM - 5:00 PM
Fundraising in the bear market
5:00 PM - 5:30 PM
Women in the web3