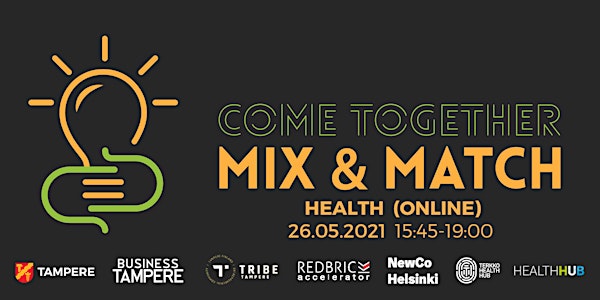 Mix & Match Networking Event - HEALTH (ONLINE - Finland)
For anyone interested in startup entrepreneurship – whether it's joining or creating a startup team. Join us to get inspired, learn, network
About this event
FIND YOUR DREAM TEAM AND BUILD THE NEXT BIG THING!
The Mix&Match networking event is a great place for early stage innovative ideas or startup teams to find a core team member or a co-founder or anyone to offer their skills and experience to develop innovative business cases to the next level.
For anyone interested in startup entrepreneurship – whether it's joining or creating a startup team. Mix&Match networking events aim to bring people with:
innovative startup ideas
an early-stage start-up team
entrepreneurial ambitions and
interest in innovative businesses
who want to make an impact by connecting like-minded people from various educational backgrounds around a specific field or industry each time and we provide you the means to develop your idea into an actual business.
Mix&Match is full of innovative and creative minds from diverse backgrounds to find your dream team and join forces to solve even the most demanding challenges of our society. With the support of coaches and mentors and diverse services from our partners, you can build the next big thing!
For more information and FAQ: https://internationaltampere.fi/article/mix-match/