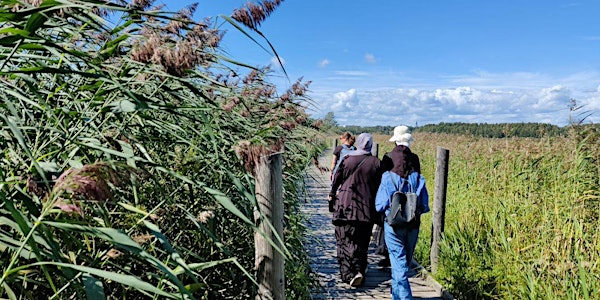 Luontokoti: Luonto tutuksi -koulutus | Discovering Nature -training
Tule oppimaan luonnossa tapahtuvasta virkistystoiminnasta ja miten luontoympäristössä toimiminen parantaa hyvinvointiasi!
Date and time
Mon, Jan 30, 2023 7:30 AM - 9:00 AM PST
About this event
Liity mukaan Teams-koulutukseen ma 30.1. klo 17.30 TÄSTÄ
Join the Teams-training on Monday 30th of Jan. at 17.30 HERE.
*English below
Luonto tarjoaa helposti saavutettavaa hyvinvointia!
Haluatko oppia lisää luonnosta ja luontotoiminnasta?
Haluaisitko viettää enemmän aikaa ulkona, mutta et tiedä mistä aloittaa?
Haluaisitko viedä oman ryhmäsi, järjestösi, työporukkasi tai muun yhteisösi retkelle luontoon, mutta tarvitset lisätietoa miten ja mihin lähteä?
Luonto on kaikille avoin ja ilmainen! Tule oppimaan etänä Teamsiin luonnossa tapahtuvasta virkistystoiminnasta ja miten luontoympäristössä toimiminen parantaa omaa ja yhteisösi hyvinvointia ympäri vuoden.
Kerromme, mitä kaikkea Suomen luonnossa saa tehdä, mitä ruokaa sieltä voi kerätä ja millaisia vastuita luonnossa liikuvalla on. Luonnossa toimimalla oppii myös helposti uusia taitoja ja mielenkiintoja, joita hyödyntää omassa elämässä, opinnoissa tai työssä.
Voit tulla oppimaan helppoja keinoja oman hyvinvoinnin parantamiseen, miten luontoa voi käyttää esimerkiksi kotoutumisen tukena tai kuulemaan, miten ja millaisia retkiä voit järjestää helposti itse omille yhteisöillesi lähiluonnossa.
Suomen pinta-alasta yli 75% on metsää. Hyödynnätkö sitä jo omassa arjessasi? Paljon hienoa jää näkemättä, jos ei välillä poikkea tutulta kaupunkireitiltä!
Ilmoittautuneille lähetetään Teams-linkki sähköpostitse ennen koulutusta.
Valitse ilmottautuessasi, millä kielellä haluat osallistua.
(Huom! Koulutus siirretty tammikuulle, jos ilmoittauduit mukaan joulukuussa, ilmoittaudu uudestaan tähän kiitos!)
**
Nature offers easily accessible well-being!
Want to learn more about nature and nature activities?
Would you like to spend more time outdoors but don't know where to start?
Would you like to take your group, organisation, work team or other community on a nature trip, but need more information on how and where to go?
Nature is open and free for everyone! Come and learn remotely on Teams about outdoor recreation and how working in a natural environment can improve your wellbeing and that of your community all year round.
We'll tell you what you can do in Finland's nature, what food you can gather there and the responsibilities of being in nature. In nature you can also learn new skills and interests that you can use in your own life, studies or work.
You can learn easy ways to improve your own well-being, how to use nature to support integration, for example, or how and what kind of trips you can easily organise for your own community in the local nature.
More than 75% of Finland's land area is forest. Do you already use it in your everyday life? There is so much to see if you get away from the familiar urban route!
A Teams link will be sent by email to those who have registered before the training.
When registering, please indicate in which language you wish to participate.
(Note! Training postponed from December to January, please register again if you would like to participate!)