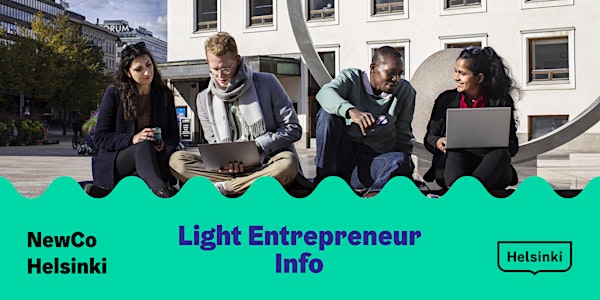 Light Entrepreneur Info (online)
Are you considering light entrepreneurship?
About this event
What does the term "light entrepreneurship" mean? How is it regulated and taxed? In which situations is it a viable option of self-employment?
Are you considering light entrepreneurship? Start by participating in the Light Entrepreneur Info session!
Duration: ca. 45 min including Q&A. The event is free and held in Teams.
Followed by a representative one of light entrepreneurship service provider introducing their services
(yet to be confirmed)
Teams-link is sent to all registered a day before the event and again as a reminder a few moments before the start.
Welcome to Light Entrepreneur Info online!
About using Teams:
To participate in the info online in Teams You will need a computer with internet connection and preferably a Chrome web browser.
Please log in with your name so we know who are present online and that we can send material to participants afterwards.
Click "Liity kokoukseen napsauttamalla tästä" to join Teams Meeting and join on the web 5-10 minutes before the start but by 10 am at the latest. (You don't need to download the Teams app unless you already have it in your computer).
Please keep your camera shut and also your mike in mute.
Write your questions in the chat or raise your hand in the teams panel and when it is your turn to speak, open your mike to ask your questions.
The info is not recorded in Teams but we'll send the materials afterwards by email.
***************************
NewCo Helsinki uses Eventbrite for event registration. When you register for our events, we collect your name and email address. You can also subscribe to our newsletter.
We use the information to keep track of the number of participants and for sending you the information needed for participating in our events, e.g. links and potential changes. We also collect feedback from the events. We do not forward the information we collect on Eventbrite to others.
NewCo Helsinki stores the data it collects in the service for 12 months. If you wish, you can create your own profile in the service, which allows you to manage your registrations yourself (incl. the removal of your data). However, registering for NewCo Helsinki events does not require creating a profile.
****************************