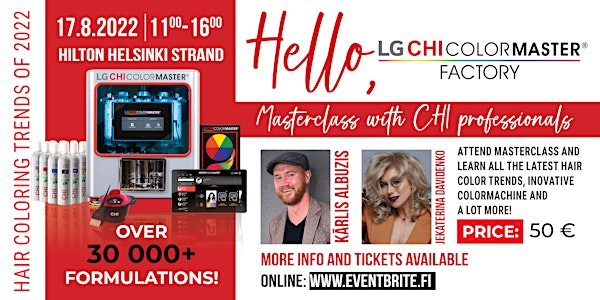 LG CHI Color Master Big Show and Hair Color Trends of 2022
Attend a workshop by the international training team of Farouk Systems and learn all the latest trends in hair color!
When and where
Location
Hilton Helsinki Strand 4 John Stenbergin ranta 00530 Helsinki Finland
About this event
Farouk Systems is one of the world's leading manufacturers of high-quality cosmetics and hair accessories.
An international group of trainers from Latvia is organizing a unique master class for professional hairdressers and stylists for the first time in Finland. You will learn modern color techniques based on CHI - silk hair color.
If you've ever felt that your creative ideas, your boldest and most spectacular solutions are not implemented properly, if clients come to you wanting a change, but are afraid that big dyes won't suit their hair. CHI and BioSilk's professional hair care products are exactly what you've been looking for!
CHI professional silk-based dyes make the dyeing process a real refreshing treatment. With the help of these models, you can see how the latest trends and hair coloring techniques can be combined. From complex and multi-layered blonde to long-lasting vibrant colors!
In the program of the event, you will learn how you can apply these opportunities independently:
Modern coloring trends. Overview and combination of the latest commercial color techniques: Airtouch coloring, Balayage coloring, Babylights coloring, Shading, Shatush and other colorings.
Air Color by CHI hairdryer for textured coloring
Total Blond technology, with a bleaching level of up to 9 levels and preserves hair quality to the maximum.
Blorange creative coloring with direct colors.
The master class is presented by an international team of Farouk Systems trainers – Karlis Albuzis and Jekaterina Davidenko (Latvia).
Come to the master class and conquer new heights of the profession!