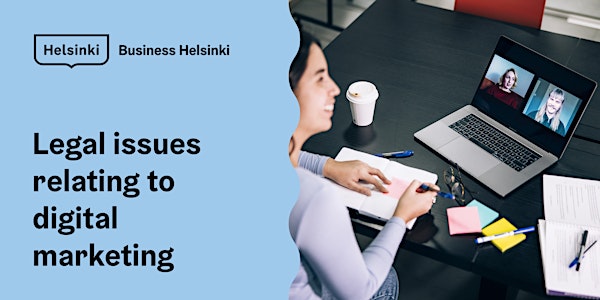 Legal issues relating to digital marketing (online)
What legal issues must also be taken into account in digital marketing in Finland!
Date and time
April 20 · 11pm - April 21 · 2am PDT
About this event
Are you aware of the legal rules relating to digital marketing? Can you apply them in your marketing activities?
Come to learn what materials are protected by copyright and who owns the rights to content. The course also deals with content created by artificial intelligence platforms and copyright to such content.
You also learn what should be taken account when handling personal data.
Come and learn the legal rules relating to digital marketing!
CONTENT
content protected by copyright and right to use photos
content created by artificial intelligence platforms and copyright
handling of personal data (GDPR and ePrivacy regulation)
Lecturer: Lawyer Jenni Eromäki (LL.M.), Via Juridica Oy
This is an online event using Microsoft Teams as the platform. The event is free of charge for all participants. Sign up first and reserve your spot!
You will receive Teams-link by e-mail day before the training and again as a reminder few minutes before the start.
The training is not recorded, but the presentations are available for the participants afterwards.
Welcome!
P.S. Similar course is held also in Finnish Wednesday April 19 - sama koulutus pidetään myös suomeksi jo keskiviikkona 19.4! https://www.eventbrite.com/e/592451677917
************************
Business Helsinki uses Eventbrite for event registration. When you register for our events, we collect your name and email address. You can also subscribe to our newsletter.
We use the information to keep track of the number of participants and for sending you the information needed for participating in our events, e.g. links and potential changes. We also collect feedback from the events. We do not forward the information we collect on Eventbrite to others.
Business Helsinki stores the data it collects in the service for 12 months. If you wish, you can create your own profile in the service, which allows you to manage your registrations yourself (incl. the removal of your data). However, registering for Business Helsinki events does not require creating a profile.
************************