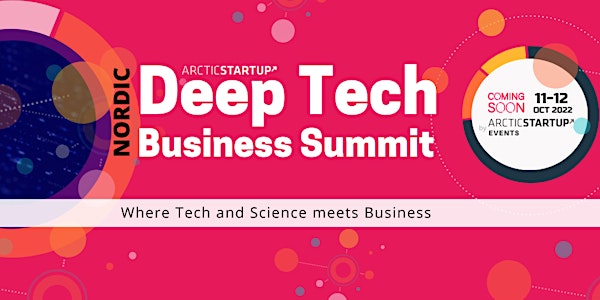 Land your dream job in Nordic Deep Tech
Looking to jump into an exciting and meaningful career? Motivated to do good business and good for the people & planet?
About this event
This is a free event for helping talent and co-founders to transition to more meaningful careers and companies.
Deep tech startups solve the greatest problems of mankind and they're looking for you with business development and management expertise to help scale their business and impact. Come and learn about the opportunities, how to land your dream job and build your own roadmap to get there.
How to identify your dream job
What makes deep tech startups unique
Examples of deep tech startups
Compensation models
Becoming a co-founder
Job opportunity examples
How to land your dream job
What others say (examples of people who have changed their career path and joined a deep tech startup)
The most active and suitable candidates with be rewarded with a Free ticket to Nordic Deep Tech Business Summit.
Welcome to Nordic Deep Tech Business Summit, Northern Europe's first and only deep tech conference with business focus. Our mission is to unlock the massive potential for deep tech in the Nordics by empowering the ecosystem and its stakeholders.
To be successful every deep tech team needs funding, talent, expertise and clients. By presenting the top deep tech companies and research teams in the Nordic countries together, we can attract the top international corporations and investors, experts and talents.
The focus is on quality networking and discovering opportunities for cross-border and cross-industry collaboration between academia, private and public sector. The 2-day event brings together a focused international crowd of companies, research teams, research institutions, investors, corporates, media and influencers.
What to expect at NDTBS
Themes and topics:
Deep tech commercialization, Discovering and leveraging key enabling technologies, Deep tech investing, Storytelling for hard science, Design and branding, Sales and marketing, Building scaling capabilities, Exits, Circular business models, Cross-border and cross-industry collaborations, Partnerships through piloting and venture clienting, Get your paperwork right, IP management, Climate and sustainability, Health, Food system transformation, Frontier tech exploration, Urban tech, + industry and technology specific themes
Functions:
Program: Panels, Fireside chats, Keynotes, Showcases, Breakout room deep dive with experts, Coaching, Workshops
Matchmaking: One-on-one meetings, Talent speed dating
Networking: After party, Investor pre-drinks, VIP reception, Speaker dinner
First speakers:
Risto Siilasmaa, Founder of F-Secure - David Sonnek, CEO of Navigare Ventures - David Dana, Head of VC investments - Disruptive Tech & Innovation, EIF - Inka Mero, Founder & Managing Partner at Voima Ventures - Jan Goetz, CEO & Co-founder of IQM Quantum Computers - Susan Repo, CGO of ICEYE - Peter Vesterbacka, founder of FinEst Bay Development - Patrik Sobocki, Investment Director, deeptech and life sciences at Industrifonden