Sorry, the promotional code you entered has expired.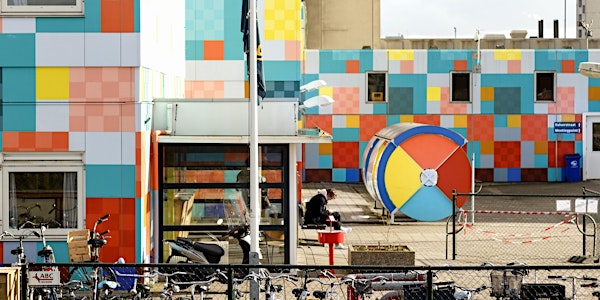 Lähiöfest2017: 'People-Driven City' Seminar
When and where
Location
University of Helsinki Great Hall (Juhlasali) Unioninkatu 34 00100 Helsinki Finland
Refund Policy
Refunds up to 7 days before event
Description
The languages of the event are Finnish (morning) and English (afternoon).
Seminaarin kielet ovat suomi (aamupäivän osuus) ja englanti (iltapäivä).


PEOPLE-DRIVEN CITY?
Lähiöfest2017, or Festival for neighbourhoods, is a festival about the city and what unites it. Lähiöfest2017 puts emphasis on areas of the city in the midst of change. With this festival we look to inspire broader discussion and thus we invite all to share thoughts and experiences in its first international seminar.
The seminar 'People-Driven City' brings together experts and activists involved in projects that combine placemaking and city planning, entrepreneurship and community work. The seminar presents different intiatives that represent both grassroots work and more traditional structures. We look how and where 'bottom-up' and 'top-down' initiatives can meet. What creates value and identity in a place? What kind of new catalyst roles could the civil servants and research institutes such as universities and larger entreprises take? How does social entrepreneurship work in neighbourhoods? What can we learn from other cities and each others' experiences?
Lähiöfest2017 -tapahtuman pääseminaari 'People-Driven City' 29.9. järjestetään kaikille kaupungin tulevaisuudesta kiinnostuneille. Seminaari katsoo kaupungin muutosta ihmisten näkökulmasta: miten alueiden arvoon ja identiteettiin voidaan vaikuttaa, miten yrittäjyys ja sosiaalinen vastuu voivat kohdata, miten lähiöiden korjauksia voidaan tehdä ihmiset huomioiden sekä mihin kaupunkimme ovat matkalla ja mitä voimme oppia muualta. Kysymyksiä tarkastellaan sekä 'ylhäältä alas'- että 'alhaalta ylös'-näkökulmista, ja etsitään keinoja niiden tuomiseksi lähemmäksi toisiaan.


PROGRAM & SPEAKERS ohjelma & puhujat

Half of the seminar will be in Finnish and it will concentrate on topics related to Helsinki and Finland. The other half will be in English and broaden the discussion to an international context.
Seminaarin aamupäivä on suomenkielinen, keskittyen erityisesti Helsingin ja muiden suomalaisten kaupunkien muutokseen. Iltapäivä on englanninkielinen ja näkökulma laajempi: kysymme, miten tulevaisuuden eurooppalaista kaupunkia rakennetaan.
Our guest speakers are leading experts and visionaries in their fields, representing different European cities as well as different disciplines and approaches.
Puhujamme ovat kaupunkien kehityksen vaikutusvaltaisia suunnannäyttäjiä Suomesta ja Euroopasta, ja he edustavat kattavasti eri aloja ja lähestymistapoja.

KEYNOTES
Anni Sinnemäki, Deputy Mayor, City of Helsinki
Kees Christiaanse, Urban Planner and Architect, KCAP
Xander Vermeulen Windsant, XVW architectuur
Mari Vaattovaara, Professor, University of Helsinki
Egbert Fransen, Director, Pakhuis de Zwijger
Madeleine Nobs, Business Developer, NCC Building
CASE STUDIES & DISCUSSIONS
Philippe Castaing, Chief Curator, MakeShift
Simon van Dommelen, Director, LOLA
Jaanus Juss, Founder, Telliskivi Creative City
Pasi Kuoppamäki, Chief Economist, Danske Bank
Erkki Heikkinen, CEO, Kiinteistömaailma
Katja Soini, Design Director, Vahanen PRO
Jaakko Särelä, Principal Consultant, Reaktor
Pauliina Seppälä, Entrepreneur and Activist, Yhteismaa
Olli Sirén, CEO and Activist Miltton Creative
Arto Sivonen, Founder, Måndag
Aram Aflatuni, Producer and Co-Founder, Gutsy
More speakers and moderators TBA!
See the updated speakers list and their bios at

Katso päivitetty lista puhujista ja heidän bionsa osoitteessa


PARTNERS yhteistyökumppanit
This seminar would not be possible without our wonderful partners and sponsors.
The main partners of the seminar are Danske Bank and Kiinteistömaailma. The content partners are Aalto University, AaltoPRO, Architecture Information Centre Finland and NCC Suomi. We are thankful for the generosity of Embassy of the Netherlands in Finland, Embassy of Estonia in Finland and Finnish Cultural Institute in Netherlands.
City of Helsinki is the main supporter of Lähiöfest2017. The main partners are Vahanen and K-Market.
FAQs usein kysytyt kysymykset
Don't you offer student or other discounts?

We don't offer a discount automatically. However, students and 'active citizens' (activists, people volunteering in different associations etc.) can apply for a cheaper, sponsored ticket (á 55€). Read more and apply for the discount code by September 8th (deadline extended) here: http://bit.ly/peopledrivencity-discount

Students from partnering study programs will receive VIP tickets via their own university.
What's included in the ticket price? Mitä lipun hintaan sisältyy?

Most importantly: full day of top-notch programme with prominent international and Finnish experts, change-makers and visionaries. Also: coffee. Note that lunch is not included in the price. Many of the best restaurants in Helsinki are located in the area nearby and you'll get a chance to pick your favourite (we'll give you tips, too).

Huippuluokan seminaariohjelma sekä kahvitarjoilut. Lounas ei sisälly hintaan.
Can my organization order and pay tickets by invoice? Voinko maksaa liput laskulla?

Choose "pay by invoice" and follow the instructions. Invoice fee 7 EUR per invoice will be added. If you need to specify something about invoicing, or would like to get a quote for a larger amount of tickets, contact seminaari@lahiofest.fi.

Laskutus on nyt mahdollista valita maksutavaksi suoraan Eventbritessa. Laskutuslisä 7 euroa lisätään tilauksen loppusummaan. Jos sinulla on kysymyksiä tai tarkennettavaa laskutukseen liittyen, tai haluat tarjouksen suuremmalle määrälle lippuja, ole yhteydessä seminaari@lahiofest.fi
What's the cancellation / refund policy? Mitkä ovat peruutusehdot?

Attendees can receive refunds up to 7 days before the event, until Sept 22nd 4pm. Eventbrite service fees will not be refunded. Also free VIP tickets (yhteistyökumppaneiden kutsuvierasliput) should be cancelled 7 days before the event. We will charge a penalty fee of 50 euros for late cancellations and no-shows. To cancel your ticket, contact the organizer via Eventbrite or email seminaari@lahiofest.fi
Peruutukset 22.9. mennessä lähettämällä viesti järjestäjälle Eventbriten kautta tai osoitteeseen seminaari@lahiofest.fi. Ajoissa peruutettujen lippujen hinnan maksamme takaisin, vähennämme Eventbriten palvelumaksut. Myös ilmaiset kutsuvierasliput tulee perua samaan määräaikaan mennessä. Peruuttamattomista tai myöhässä peruutetuista kutsuvieraslipuista laskutamme 50 euron sakkomaksun.
What is the language of the event? Millä kielellä seminaari järjestetään?
The seminar is divided into two parts: the first one in the morning is held in Finnish, focusing more on the context of Helsinki and Finland. After lunch we broaden the view and all talks and interviews will be held in English.
Seminaari on jaettu kahteen osaan: aamupäivän osuus on suomeksi, lounaan jälkeen osuus englanniksi.

Can I volunteer at the event?
Contact us at seminaari@lahiofest.fi
----

Program and conditions subject to changes.
Oikeudet muutoksiin pidätetään.