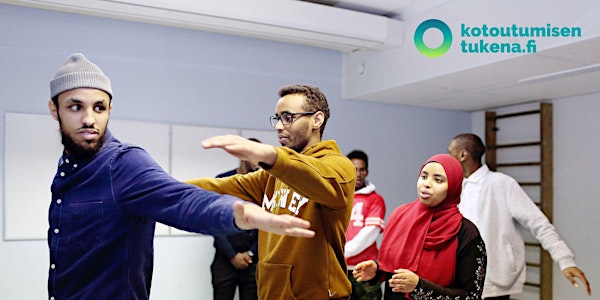 Kotoutumisentukena.fi user training in English
Does your association organise activities supporting integration in Finland? Then take advantage of the Kotoutumisentukena.fi service!
About this event
By using the kotoutumisentukena.fi service, you will gain new participants and network with the authorities and other organisations.
In the training you will learn how to use the service and how to communicate your own activities on the service. The training is open to all organisations that organise or communicate regular low-threshold activities. The association must have a business ID.
Why should you participate?
You will be supported in the implementation of Kotoutumisentukena.fi: you will learn how to act as the main user in your organisation and how to write ads for your activities.
With Kotoutumisentukena.fi you will have a direct communication channel to municipalities, educational institutions, organisations, etc. Guidance and counselling workers will guide their migrant clients to low-threshold activities through Kotoutumisentukena.fi and you will gain new participants in your activities. In addition, other actors will learn about your activities and you will learn about the activities of others, making it easier to plan activities and work together.
Kotoutumisentukena.fi is an online service shared by all those working in the field of integration
On Kotoutumisentukena.fi you can apply for and register low-threshold activities such as language clubs, hobbies, peer activities and meeting places. It also brings together events and training for integration workers and volunteers.  The service is run by the Uusimaa ELY Centre. The languages of the service are Finnish and Swedish, but you can also publish information in English if you organise activities in English.
Please note that this training's language is English.
The training is organised by the Uusimaa ELY Centre and Moniheli ry.
***
Kun otat käyttöön kotoutumisentukena.fi-palvelun, niin saat toimintaan uusia osallistujia ja verkostoidut viranomaisten sekä muiden järjestötoimijoiden kanssa.
Koulutuksessa opit, miten kotoutumisentukena.fi:tä voi hyödyntää ja sekä miten omasta toiminnasta kannattaa viestiä palvelussa. Koulutukseen ovat tervetulleita kaikki järjestötoimijat, jotka järjestävät säännöllistä matalan kynnyksen toimintaa tai viestivät siitä. Yhdistyksellä tulee olla y-tunnus. Tämän koulutuksen kieli on englanti, kts. alta jos haluat osallistua suomenkieliseen koulutukseen.
Miksi kannattaa osallistua?
Saat tukea kotoutumisentukena.fi:n käyttöönotossa: opit toimimaan oman organisaatiosi pääkäyttäjänä ja tekemään ilmoituksia.
Kotoutumisentukena.fi:n avulla saat suoran viestikanavan esimerkiksi kuntiin, oppilaitoksiin ja järjestöihin. Ohjaus- ja neuvontatyöntekijät ohjaavat maahanmuuttaneita asiakkaitaan matalan kynnyksen toimintaan kotoutumisentukena.fi:n avulla ja saat uusia osallistujia toimintaasi. Lisäksi muut toimijat saavat tietää toiminnastasi ja sinä muiden toiminnasta, mikä helpottaa toiminnan suunnittelua ja yhteistyötä.
Kotoutumisentukena.fi on kotoutumisen parissa toimivien yhteinen verkkopalvelu
Kotoutumisentukena.fi:ssä voi hakea ja ilmoittaa matalan kynnyksen toimintaa kuten kielikerhoja, harrastus- ja vertaistoimintaa sekä kohtaamispaikkoja. Lisäksi palvelu kokoaa kotoutumisen parissa toimiville työntekijöille ja vapaaehtoisille suunnattuja tapahtumia ja koulutuksia.  Palvelua ylläpitää Uudenmaan ELY-keskus. Palvelun kielet ovat suomi ja ruotsi, mutta voit julkaista palvelussa myös englanninkielisiä ilmoituksia, jos järjestät toimintaa englanniksi.
HUOM! Tämän koulutuksen kieli on englanti. Uudenmaan ELY-keskus tarjoaa saman verkkokoulutuksen suomeksi 5.10.2022, lue lisää ja ilmoittaudu tästä linkistä.
Koulutuksen järjestää Uudenmaan ELY-keskus sekä Moniheli ry.