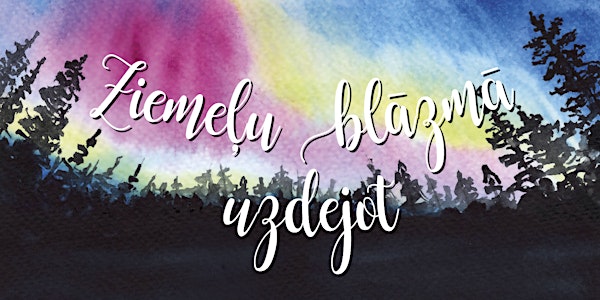 Koncerts "Ziemeļu blāzmā uzdejot" │Concert "Dancing to the Northern Lights"
Location
Kalliolan setlementtitalo
11 Sturenkatu
00510 Helsinki
Finland
Refund policy
Contact the organizer to request a refund.
Eventbrite's fee is nonrefundable.
Latvian folk dance group "Aurora" 5th anniversary concert "Dancing to the Northern Lights".
About this event
- In `English language below -
Deju kopas "Aurora" 5 gadu jubilejas koncerts.
Koncertā piedalās: TDK "Aurora" (Somija), TDK "Zibenītis" (Zviedrija), TDA "Dardedze", igauņu deju kopa "Ülelahedad" (Somija) un latviešu - somu koris "Ziemeļmeita" (Somija).
Biļetes tikai iepriekšpārdošanā. Koncerta apmeklētājiem paredzētas tikai sēdvietas. Vietu skaits ierobežots!
Informējam, ka pasākuma apmeklētāji var tikt fotografēti vai filmēti. Šī informācija var tikt izmantota sociālajos tīklos un interneta mājas lapā, jebkurā masu informācijas līdzeklī, kā arī vēsturisko vērtību uzkrāšanas, dokumentēšanas un saglabāšanas vajadzībām. Piedaloties pasākumā, Jūs piekrītat foto un/vai video uzņemšanai un izmantošanai.
Pasākumu līdzfinansē Latvijas Republikas Kultūras ministrija.
***
Latvian folk dance group "Aurora" 5th anniversary concert.
Concert participants: Latvian dance group "Aurora" (Finland), Latvian dance group "Zibenītis" (Sweden), Latvian folk dance an ensemble "Dardedze" (Latvia), Estonian dance group "Ülelahedad" (Finland) and Latvian-Finnish choir "Ziemeļmeita" (Finland).
Tickets are available only in advance. Only seats for concert attendees. The number of seats is limited!
We would like to inform you that the visitors of the event may be photographed and captured in videos. This information may be used on social networks and websites, in any media, as well as for the collection, documentation and preservation of historical values. By participating in the event, you agree to the taking and use of photos and / or videos.
The event is co-financed by the Ministry of Culture of the Republic of Latvia.
Covid-safety guidelines:
- In English language below -
Sakarā ar nesenajām izmaiņām, koncerta skatītājiem būs jāuzrāda Digitālais COVID Sertifikāts un personu apliecinošs dokuments (no 16 g.v).
Lūgums neapmeklēt pasākumu, ja jūties nevesels vai ir Covid-19 saslimšanas pazīmes! Pasākumu norises vietās tiks ievērotas epidemioloģiskās drošības pasākumu vadlīnijas. Jūsu kontaktinformāciju glabāsim 2 nedēļas, un tā var tikt izmantota personu apzināšanai iespējamas "Covid-19" slimības gadījumā. Informācija tiks nodota atbildīgajām iestādēm Somijas likumdošanā paredzētajā kārtībā. Sargāsim sevi un citus!
Gadījumā, ja Covid-19 attīsties neperadzētā veidā, mēs paturam tiesības pasākumu atcelt. Tādā gadījumā, tiks atgriezta biļetes cena mīnus Eventbrite pirkuma apstrādāšanas maksa t.i. tiks atgriezti 12.74 EUR.
***
There are new restrictions taking effect as of 04.12.2021, therefore, all spectators of the concert will be required to show the Digital COVID Certificate and ID (from the age of 16).
Please do not attend the event if you feel unwell or have signs of Covid-19! The guidelines for epidemiological safety measures will be followed at the venue. We will keep your contact information for 2 weeks which might be used to identify people with possible Covid-19 disease. The information will be passed on to the responsible authorities in accordance with Finnish law. Let's take care of each other!
In case of unforseen developments concerning Covid-19 situation in Finland, we reserve the right to cancel the event. In case of cancellation, you will be refunded 12.74 EUR (the ticket fee minus Eventbrite processing fee).