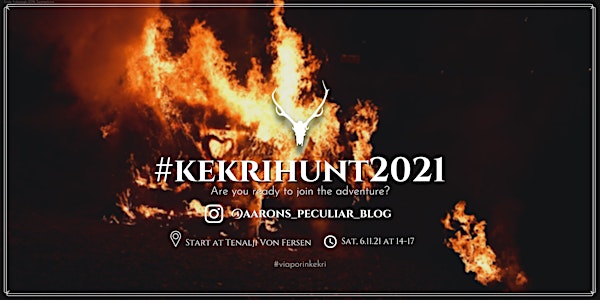 #kekrihunt2021 - Scavenger Hunt
This year we've prepared something very exciting for all of you ADVENTURERS out there. Are you ready to join #kekrihunt2021?
When and where
Location
Suomenlinna Tenalji von Fersen 00190 Helsinki Finland
About this event
What happens when you combine Aaron, The Ghosthunter, and The Spirits of Kekri on the verge of Viaporin Kekri? 👻
Join our Instagram @aarons_peculiar_blog to find out what happens next and be ready to help when things go wrong…
Mitä tapahtuu kun yhdistetään Haamuetsivä Aaron ja Kekrin henget juuri ennen Viaporin Kekriä? 👀
Ota Instagram -tilimme, @aarons_peculiar_blog, haltuun nähdäksesi, mitä tapahtuu seuraavaksi sekä auttaaksesi, kun asiat eivät menekään suunnitelmien mukaan...
Finnish below.
PLEASE NOTE:
#kekrihunt2021 is a group activity but only ONE ticket per group is required. The minimum size of the group is 2 people.
The game is suitable for anyone above the age of 10.
It is held outdoors so please mind weather conditions.
HUOM:
#kekrihunt2021 on ryhmäaktiviteetti, mutta vain YKSI lippu per ryhmä vaaditaan. Ryhmän vähimmäiskoko on 2 ihmistä.
Peli soveltuu kaikille yli 10 vuotiaille.
Peli järjestetään ulkona, joten pukeuduthan sään mukaisesti.