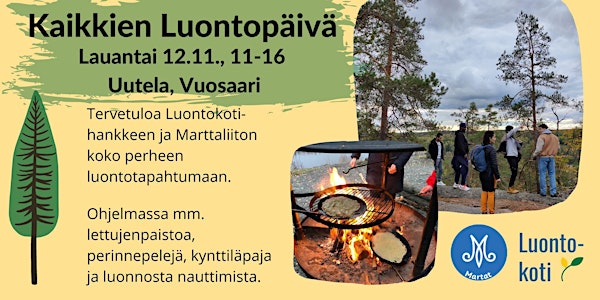 Kaikkien Luontopäivä // Nature Day for Everyone
Monihelin ja Marttaliiton Luontokoti-hanke järjestää yhteistyössä Vihreän Veräjän kanssa koko perheen luontopäivän Uutelassa.
When and where
Location
Skatan tila 30 Uutelantie 00990 Helsinki Finland
About this event
(In English below)
Monihelin ja Marttaliiton yhteinen Luontokoti-hanke järjestää yhteistyössä Vihreän Veräjän kanssa koko perheen luontopäivän. Ohjelmassa on mm. erilaisia rasteja luonnossa. Näihin sisältyy esimerkiksi perinnepelejä, kynttiläpaja, luontopolku ja bingo sekä yhteisen taideteoksen tekeminen luonnosta kerättyjen asioiden avulla.
Klo 11-12 tarjoamme evästä nuotiolla! Tapahtumassa on tarjolla myös kahvia, teetä ja mehua ja ohjelmaan sisältyy myös lettujenpaistoa. Yhteinen ohjelma alkaa klo 12, saavuthan paikalle ajoissa!
Käytössämme on myös Uutelan kota ja muuta suojaa, mutta huomioithan, että tapahtuma järjestetään pääasiallisesti ulkona. Varauduthan siis sään mukaisella, tarpeeksi lämpimällä vaatetuksella.
Saapumisohjeet: Tapahtuman osoite on Uutelantie 30. Perille pääset niin autolla kuin julkisilla kulkuvälineillä. Tapahtumapaikan lähistössä löytyy autopaikkoja. Vuosaaren metroasemalta perille pääset bussilla 90, pysäkki Aurinkotuulenkatu, josta kävely Skatan tilalle noin 1km.
Tapahtumapaikkana toimiva Uutelan kota ja luontopolut ovat käytettävissä myös tapahtuman ulkopuolella. Skatan tila on Vihreän Veräjän tarjoama tila, joka järjestää tapahtumia ja toimintaa sote-järjestöille. Tätä palvelua voit hyödyntää oman järjestösi kanssa!
Ilmottaudu tapahtumaan, jotta osaamme varata riittävästi tarjoiltavaa. Voit kuitenkin halutessasi tulla mukaan ja kutsua muita myös ilman ilmoittautumista. Lähetämme ilmoittautuneille lisätietoa tapahtumasta sähköpostitse.
***
Moniheli and the Martha Origanization's Luontokoti-project in cooperation with Vihreä Veräjä, is organising a Nature Day for the whole family. The programme includes traditional games, a candle workshop, a nature trail and bingo, and the creation of a collective artwork using things collected from nature.
At 11-12 we serve some food by the fire! Coffee, tea and juice will be available and the programme will also include making pancakes. Joint program starts at 12, we recommend arriving on time!
We will have access to the Uutela hut and other shelter available, but please note that the event will be held mainly outdoors. So please be prepared with warm enough clothing for the weather.
The address of the event is Uutelantie 30. You can get there by car or public transport. There are parking spaces near the venue. From Vuosaari metro station you can get there by bus 90, stop Aurinkotuulenkatu, from where it is about a 1km walk to Skatan tila.
The Uutela hut and nature trails are also available outside the event. Skatan tila is a space provided by Vihreä Veräjä, which organises events and activities for social and welfare organisations. You can use this service with your organisation!
Register for the event so we can make sure everyone gets food and drinks. But you can also come or invite others even without registering. We will send those who register further information about the event by email.