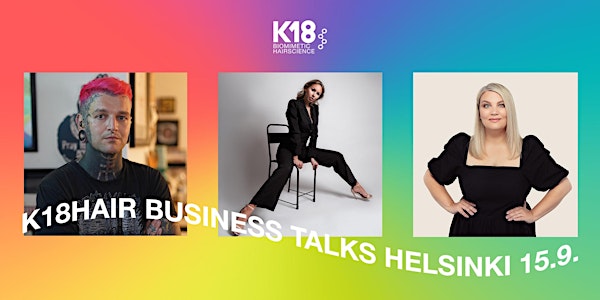 K18HAIR BUSINESS TALKS HELSINKI TO 15.9. KLO 10-12 @ FRAMEDA ACADEMY
K18HAIR BUSINESS TALKS HELSINKI TO 15.9. KLO 10 -12 FRAMEDA ACADEMY
When and where
Location
Frameda Academy Kansakoulukuja 3 00100 Helsinki Finland
About this event
K18Hair Business Talks -verkostoitumistapahtuma kokoaa yhteen hiusalan ammattilaiset keskustelemaan menestyvän liiketoiminnan rakentamisesta, itsensä ja myynnin kehittämisestä, motivaatiosta ja rohkeudesta. Tilaisuudessa puhumassa K18hair Senior Director of Global Education Jordan Alexander, yrittäjä, motivaatiovalmentaja Sointu Borg ja yrittäjä, SAVON-kauneusbrändin perustaja Kati Mouhu.
K18Hair muutti koko hiusalan kertaheitolla ja nousi kulttimaineeseen ennätysvauhdilla. Nyt saamme Suomeen K18hair Senior Director of Global Education Jordan Alexanderin! K18HAIR BUSINESS TALKS -tapahtumassa Jordan kertoo K18Hair tarinan, miten syntyi teknologia ja tuotteet, jotka muuttivat alaa pysyvästi käytännössä yhdessä yössä. Miten K18Hair nousi ennennäkemättömäksi viraaliksi ilmiöksi ja mitä uutuuksia K18Hair lanseeraa pian.
Lisäksi pääsemme kuulemaan rohkeasta henkilöbrändistään tunnettua liiketoiminnan menestyjää, Diili-voittajaa Sointu Borgia ajatusmallien murtamisesta myynnin edistämisessä, uskomisesta itseen ja omaan tekemiseen.
Kauneusbrändi SAVONin perustaja Kati Mouhu on muuntautumiskykyinen kauneusalan moniosaaja. Hän kertoo kuinka ohjata liiketoimintaa ottamalla ohjat numeroista, Take control! Kati puhuu meille myös motivaatiosta ja työn merkityksellisyydestä.
Paikkoja tilaisuuteen on rajoitetusti.
AIKA: TORSTAI 15.9. KLO 10-12
PAIKKA: FRAMEDA ACADEMY, KANSAKOULUKUJA 3, HELSINKI
HINTA: 39€ + ALV.
Peruutusehdot: Peruutus viimeistään 14 vrk ennen tapahtumaa. Muussa tapauksessa tapahtuman hinta veloitetaan.