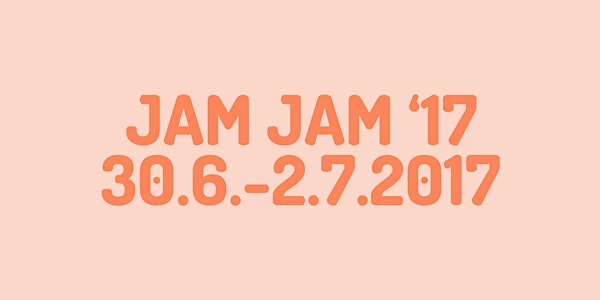 Jam Jam 2017
When and where
Location
Sappee Sappeenvuorentie 200 36450 Sappee Finland
Refund Policy
Refunds up to 7 days before event
Description
Welcome to the Jam Jam 2017!
This jam goes meta: it is for the jam organizers to get together and work with their jam concepts!

Finnish Game Jam organization is offering a place for all the amazing jam organizers around the globe to come together, work on their jam preparations, share lessons and problems of jam organizing as well as develop new jams together.
Where?
Jam Jam 2017 is located in the middle of a Finnish forest on a skiing resort Sappee (http://www.sappee.fi). The cabins come with all modern necessities including saunas and hot tubs. Fear not, there should be no snow in June.

What do we do?
You can choose which jams you work with or if you want to come up with completely new jams. All we ask is that you share your thoughts and progress with others. The program is pretty flexible: there is a presentation slot for each day, schedule for eating and plenty of options to chat with others, go to sauna and enjoy the cabins and hot tubs. You don't need to be an experienced jam organizer, we also welcome beginners. There is plenty of experience to share and things that you can help with!

How much is it?
The accommodation of Jam Jam is free for the participants, but everyone contributes to our shared food budget (the nearest shop is 20km away). Minimum contribution is 5 eur and maximum is 100 eur. Recommended amount is 25 eur. Pay according to your own possibilities to contribute, the amount will not be revealed to others. Depending on the combined sum, we either provide breakfast, lunch, dinner, drinks or one of these. You are responsible of your own travel expenses, but there will be a sponsored bus ride from Helsinki to Sappee and back on Friday and Sunday.

If you would like to pay with an alternative way or contribute as a sponsor, please contact annakaisa.kultima@uta.fi. Payments are refundable up to 7 days before the event. Later cancellations are not refunded.

All further inquiries, questions and comments can be sent to annakaisa.kultima@uta.fi. Once you have registered and finished your payment, you also get an invitation to our Jam Jam Slack.
We are looking forward to jam the jams with you!