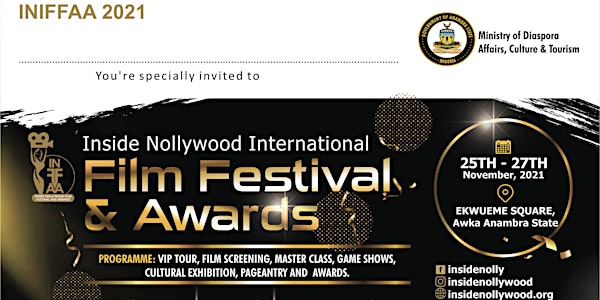 Inside Nollywood International Film Festival & Awards
Location
Ekwueme Square
Alex Ekwueme
Awka, AN 420112
Nigeria
INIFFAA is a platform where filmmakers all over the world, especially Africans meet and share ideas.
About this event
Awka, Anambra state will play host to Inside Nollywood International Film Festival Awards (INIFFAA) which is organised by Anambra state ministry of Arts, Culture, Tourism and Diaspora in collaboration with Inside Nollywood, from the 25th of November to 27th at Alex Ekwueme Square.
The theme of this year's Film Festival is "Reawakening our cultural values through motion picture". It's a theme that draws on the principle of creating original African contents.
Inside Nollywood International Film Festival & Awards (INFFAA) deliberately commits to the ideals of empowerment and creative engagement. Through its investment in the development of local creative talents, it keeps faith with the next generation of creatives.
INFFA will be a three-day fun-filled, empowering & enlightening event that will be attended by personalities from all walks of life.