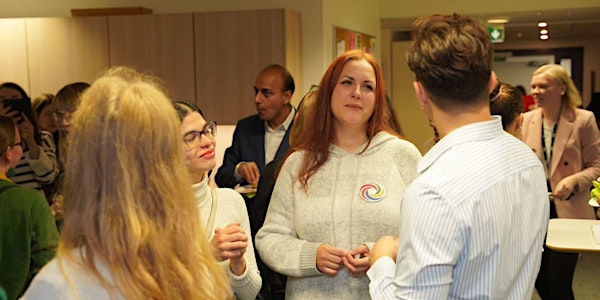 Infotilaisuus: Moniheli-avustus 2023 | Info session: Moniheli Grant 2023
Moniheli-avustuksen infotilaisuus: yleishaku & verkoston aloitteet | Moniheli Grant info session: general call & Network Initiatives launch
Date and time
Thu, Feb 23, 2023 6:00 AM - 9:00 AM PST
About this event
(In English below)
Tämä tilaisuus on tarkoitettu Monihelin jäsenjärjestöille.
Moniheli-avustusta jaetaan vuonna 2023 sekä jäsenjärjestöjen omille projekteille, että yhteistyön aloitteille eri jäsenjärjestöjen välillä. Tule kuulemaan yleishausta ja verkoston aloitteet -yhteiskehittämisestä, ja verkostoidu muiden järjestöjen kanssa teille tärkeiden teemojen äärellä!
Tilaisuuden esitysosa striimataan klo 17-18. Suosittelemme osallistumista paikan päällä, sillä klo 18-19 tilaisuus jatkuu paikan päällä avoimella työpajaosuudella, jolla osallistujat voivat lähteä mukaan Verkoston aloitteiden yhteiskehittämiseen.
Esityken puhekieli on englanniksi, mutta sama tieto löytyy taustamateriaaleista suomeksi ja englanniksi. Kysymyksiä ja kommentteja voi esittää kummallakin kielellä.
Löydät tilaisuuden tarkemman aikataulun alta. Tervetuloa!
***
This event is targeted to Moniheli member associations.
In 2023, the Moniheli Grant will be distributed both to the projects of individual member associations, an to cooperation initiatives between different member associations. Come and hear about the General call for the grant and about the Network Initiatives, and network with other associations around the topics that are important to you!
The presentation part at 17-18 will be streamed via Zoom. We recommend attending on location, because at 18-19 the evening will continue with an open workshop session where participants can join in the co-development process of the Network Initiatives.
The spoken language for the presentation is English, but equivalent information can be read in Finnish and English on the background slides. Questions and comments can be presented in either language.
Please find below the detailed schedule. Welcome!
Agenda
4:00 PM - 5:00 PM
Kahvitarjoilu ja verkostoituminen | Refreshments and networking
---
Vain paikan päällä Monihelissä | Only on location in Moniheli.
5:00 PM - 5:45 PM
Infoesitys | Info presentation
---
Striimattu verkkoon. | Streamed online.
5:45 PM - 6:00 PM
Kysymykset | Questions
---
Striimattu verkkoon. | Streamed online.
6:00 PM - 7:00 PM
Alkuideointi verkoston aloitteisiin | Brainstorming for network initiatives
---
Vain paikan päällä Monihelissä. Vastaava verkkotilaisuus järjestetään maaliskuun alussa. | Only on location. An online version of the workshop will be held in early March.
About the organiser
Moniheli is Finland's largest network of multicultural associations and an expert organisation on integration and cultural diversity issues.
Moniheli on Suomen suurin monikulttuurijärjestöjen verkosto ja kotoutumiseen ja kulttuurien moninaisuuteen líittyvien kysymysten asiantuntijajärjestö.