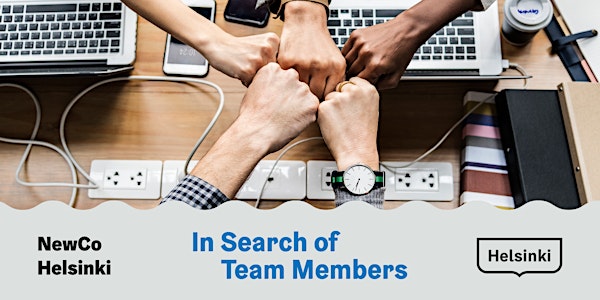 In Search of Team Members
NewCo Helsinki's pitching & networking event for startups restarts at the Helsinki Education Hub (3.11). Free of charge for all attendees.
When and where
Location
Helsinki Education Hub 14-16 Runeberginkatu 00100 Helsinki Finland
About this event
Do you have a business idea but you don't want to run the business alone, or are you searching for members to your existing team? Perhaps you have expertise that you wish to put to use in a startup that's simply missing someone like you?
We all know a solid team with a balanced skill set is crucial for the success of a startup, but it is not so easy to meet people who share your passion. This event is for you if you want to build your team and connect with like-minded individuals!
In Search of Team Members is a pitching & networking event organized by NewCo Helsinki that's attracted hundreds of startups over the years. We are restarting the series of events at the Helsinki Education Hub (Runeberginkatu 14-16, Helsinki) on November 3, starting at 5 PM.
We have two types of pitches at the event:
1) If you are looking for co-founders or team members for your startup, you will be given 3-5 minutes to express your business idea, tell about your current team (if you already have one), what kind of people you are looking for and your compensation model.
2) If you are a talent looking for a startup to join, you have 1-2 minutes to present yourself.
The networking session allows the participants to exchange ideas and discuss future plans together.
Agenda:
5 PM - 6 PM: pitches
6 PM - 7 PM: networking
Send us your slide deck!
If you wish to pitch your startup or business idea - please send us your slide deck in advance (powerpoint, pdf - maximum file size 15 Mb - deadline 3.11.2022 by 1 PM). Email address provided after registration at Eventbrite for the event.
You can also bring your own laptop. HDMI connection is required, so if your computer doesn't have it, it's best to bring your own adapter. No USB sticks this time around, sorry.
It's possible to pitch without a deck if you don't have one prepared yet, of course.
Welcome!